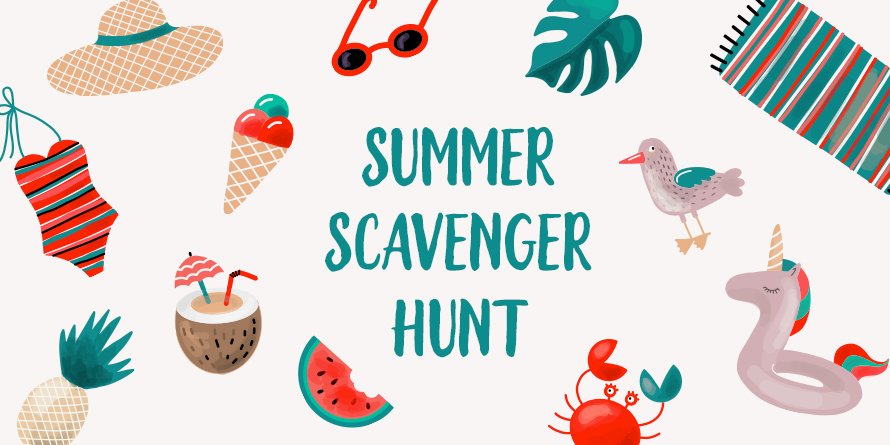 Created by the Library's Teen Services Team (but open for all ages!)
The Library's Summer Scavenger Hunt kicks off July 1, 2020 with fun simple challenges every week. Challenge your creativity and photography skills and win prizes.
Get outside, get creative—and win!
---
Here's the rundown
Each Wednesday in July and August, we will issue a photo challenge
on our Instagram page, @hfxpublib
with a prompt (like the one below, for July 1). Take a photo inspired by the prompt and tag it #ScavengerHuntHfx to be entered into a draw for some great prizes at the end of the Summer.
You can submit one entry per challenge and it must be completed before the next challenge is posted the following week. Keep your eye on our Instagram page over the summer as there may be special challenges that pop up for bonus entries.
Example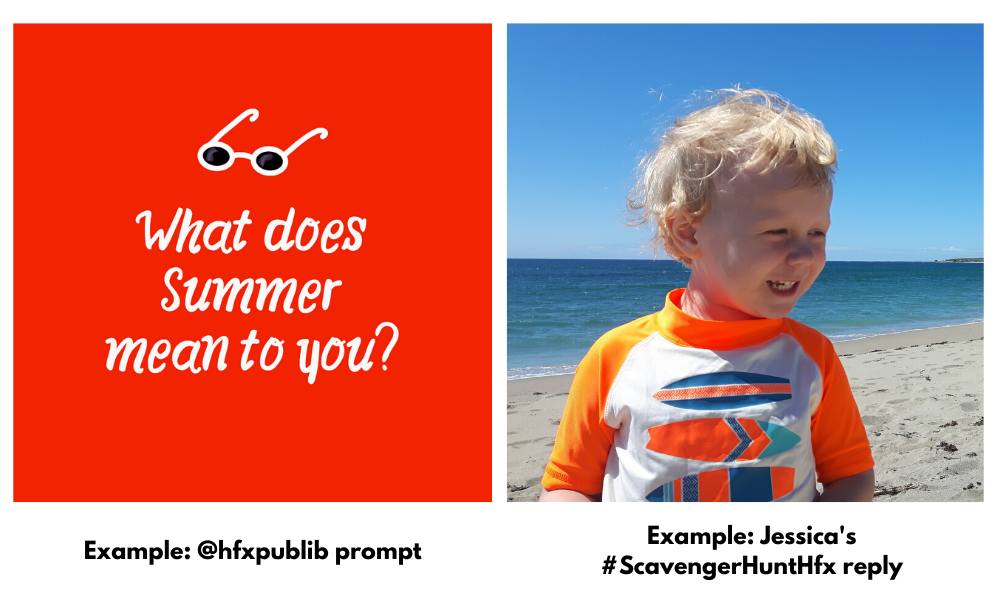 How to create and submit
There is no age limit. This is all-ages fun, for everyone.
2. Take a photo inspired by that week's challenge. Use your creativity to think outside the box, and use your best amateur photography skills.
3. Submit on social media: Post your image on Instagram using the hashtag #ScavengerHuntHfx. Your account on Instagram must be set to public for us to access the images.
4. 
Or submit by email:
Email
teen@halifax.ca
with the subject line "Scavenger Hunt," before the challenge for next week is posted.
We will gather all entries and highlight some of the best each week on our Instagram account.
Contest details
After September 2, 2020 we will put all of the submissions in a random draw for two prize draws: a $50 gift card for Bookmark, and a $50 gift card for Woozles.
You will be entered once for every challenge you submit. Halifax Public Libraries' Contest Ineligibility Policy applies. You must be a resident of Halifax Regional Municipality to win this contest. However, everyone is welcome to participate, regardless of location.
The winner will be contact via the method by which they submitted their photo(s)—email or social media—and announced on Instagram.
Consent
By submitting your photo, you give Halifax Public Libraries and its partners non-exclusive permission to use content of and/or made by the participant for digital or print publications. You understand that this may include, but is not limited to, social media posts, websites, newsletters, advertisements, posters and pamphlets. You also understand that on occasion, Library photos, video, audio, or publications may be shared with media outlets and community partners for use in promotions of Library events, initiatives, and stories. You certify that no other person's permission is needed to authorize the use of said images or content. You agree that Halifax Public Libraries cannot be held liable for images or content used with my consent. ​