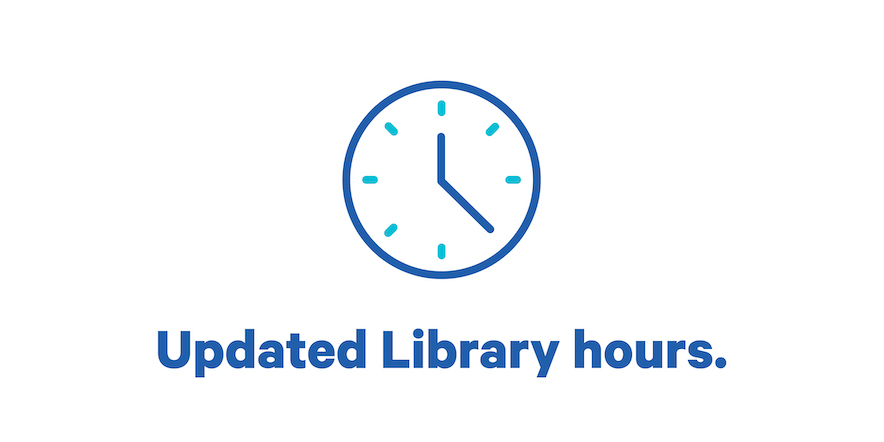 Over the coming days, Halifax Public Libraries will be extending open hours at most Library branches.
Below is a list of the updated hours along with the date the new hours will go into effect at each library branch.
Please note: Location pages will be updated on Sunday, September 27 to reflect these new changes.
Effective September 27, 2020
Monday-Thursday | 9:00am-8:00pm
Friday | 9:00am-6:00pm
Saturday | 9:00am-5:00pm
Sunday | 2:00pm-5:00pm
Effective September 27, 2020
Tuesday-Thursday | 9:00am-8:00pm
Friday | 9:00am-5:00pm
Saturday | 10:00am-5:00pm
Sunday | 2:00pm-5:00pm
Effective September 27, 2020
Tuesday-Thursday | 9:00am-9:00pm
Friday | 9:00am-5:00pm
Saturday | 10:00am-5:00pm
Sunday | 2:00pm-5:00pm
Effective September 22, 2020
Tuesday & Wednesday | 10:00am-9:00pm
Thursday-Saturday | 10:00am-5:00pm
Sunday | 2:00pm-5:00pm
Effective September 28, 2020
Monday | 9:00am-5:00pm
Tuesday-Thursday | 9:00am-7:00pm
Friday | 9:00am-5:00pm
Saturday | 10:00am-1:00pm
Effective September 27, 2020
Monday-Thursday | 9:00am-9:00pm
Friday & Saturday | 9:00am-6:00pm
Sunday | 12:00pm-6:00pm
Effective September 27, 2020
Tuesday |10:00am-9:00pm
Wednesday-Saturday | 10:00am-5:00pm
Effective September 27, 2020
Tuesday |12:00am-7:00pm
Wednesday & Thursday | 1:00pm-8:00pm
Friday & Saturday | 10:00am-3:00pm
Effective September 27, 2020
Monday | 9:00am-5:00pm
Tuesday-Thursday | 9:00am-9:00pm
Friday | 9:00am-5:00pm
Saturday | 10:00am-5:00pm
Sunday | 2:00pm-5:00pm
Effective Tuesday, October 13, 2020
Tuesday-Thursday | 9:00am-8:00pm
Friday & Saturday | 9:00am-5:00pm
Effective September 27, 2020
Tuesday-Thursday | 9:00am-7:00pm
Friday | 9:00am-5:00pm
Saturday | 10:00am-5:00pm
Sunday | 2:00pm-5:00pm
Effective September 27, 2020
Tuesday | 10:00am-4:00pm
Wednesday | 12:00pm-6:00pm
Thursday | 3:00pm-8:00pm
Friday | 10:00am-4:00pm
Saturday | 10:00am-1:00pm 
Effective September 27, 2020
Tuesday-Thursday | 9:00am-9:00pm
Friday | 9:00am-6:00pm
Saturday | 10:00am-5:00pm
Sunday | 2:00pm-5:00pm
Effective September 27, 2020
Monday | 10:00am-5:00pm
Tuesday-Thursday | 10:00am-7:00pm
Friday & Saturday | 10:00am-5:00pm
Sunday | 2:00pm-5:00pm