Written by staff members, Sue, Keshen Goodman Public Library; and Mahboubeh, Halifax Central Library
Poetry is "a means to build empathy and bridge gaps of understanding between people who come from differing backgrounds." - Michael Kemp
Asian Heritage Month may be over, but the celebration of Asian cultures continues with these selected poems from Iran, India, Iraq, China, Korea, Japan, and the Philippines. Feel the poignancy of poems, like "migrated woman, a grown toddler" (Mahboubeh Baboli, Halifax Public Libraries staff member); or embrace the whimsical "An Ode to the Goose" (Luò bīn wáng). Meanwhile, "Save me from all odds" (Robindranath Tagore) resonates with strength and purpose; while "twelve clay birds" plays soft and vulnerable.
Sharing cultures through poetry is a wonderful way to experience a new perspective. Bridge the gap with these diverse poems in their original languages and English translations.
---
Iranian poem in Farsi and English

migrated woman, a grown toddler.
A grown woman, by migration, becomes a child again.
you are born again,
you will learn again,
how to talk
how to toddle
how to see
how to mother
how to reach out for much kinder hands.
yes, grown woman.
You could be a child again, by migration.
children, though, learn without any loss.
You have lost to learn.
your country, culture, family, home, friends,
that whole warm fabric of your soul,
you have gently left on the surface of a cold crushing river,
and walked this way.
you have walked a long way,
and you have lost,
to learn.
you migrated woman, you grown-up child,
you golden coin on either side.
a side with a new life of wonder.
a side with your past life to offer.
By Mahboubeh Baboli, Halifax Public Library staff member
---
Poems in Hindi and English

Come let's light the lamp again
It's dark during the full afternoon
The Sun is defeated by the shadows
Let's squeeze the love out of the deepest part of our heart
Let's enlight the wick of the quenched lamp
Come let's light the lamp again
We deemed holt as the destination
The goal is lost from our vision,
In the pishogue of present
Let's don't forget the days (future) to come
Come let's light the lamp again
Sacrifice is yet pending, so is our mission
The obstacles of loved ones surrounded
Create the ultimate glory of victory
Like the saint Dadhichi, we melt our bones too,
Come let's light the lamp again
By Atal Bihari Vajpayee, opens a new window
Translation by Darshini Shah

Save me from all odds
Save me from all odds is not my prayer
That may I have the courage to face any event
You need not embalm the sad heart
That may I win over sadness
If aid is not in hand may my inner strength never break
In case of damage with the things around, subjected to humiliation
May I never take it as deficit.
You shall relieve me that is not my prayer
May I hold strength to relieve others.
You need not shed my burden and shower your empathy
May I always be capable of.
On the happy days my offerings to you submissively
On the suffering nights when the world is against
May I not lose faith on you.
By Rabindranath Tagore, opens a new window
Shared by Bangladesh Community Association of Nova Scotia (BDCANS)
---
A poem in Arabic and English
The rain song
Your eyes are two palm tree forests at early dawn
Or two verandas from which the moonlight recedes
When your eyes smile, the vines put forth their leaves
And the lights dance like moons in a river
Rippled by an oar at an early down
As if the stars were pulsating in their depth
And they drown in a mist of sheer sorrow
Like the sea stroked by the hands of the evening
Containing the warmth of winter and the quiver of Autumn
And death and birth, darkness and light
A sobbing flares up to shiver in my soul and
And a ferocious elation embracing the sky
An ecstasy of a child scared by the moon
As if arches of mist were drinking the clouds
Drop by drop dissolved in the rain
And the children burst into laughter in the vineyard bowers
The rain song tickled the silence of the sparrows on trees
Rain
Rain
Rain
The evening yawned and the clouds were still
Pouring their heavy tears
As if a child, before sleeping, was raving about his mother
A year ago, he woke up and did not find her
And when he kept asking about her
He was told
After tomorrow she will be back
She must come back
Yet his companions whisper that she is there
Lying dead by the side of the hill
Eating soil and drinking rain
As if a sad fisherman was gathering nets and
Cursing the water and fate
Scattering songs as the moon sets
By Badr Shakir al-Sayyab​, opens a new window
---
Poem from an Indian political activist and poet
A Love Song from the North
Tell me no more of thy love, papeeha,
Wouldst thou recall to my heart, papeeha,
Dreams of delight that are gone,
When swift to my side came the feet of my lover
With stars of the dusk and the dawn?
I see the soft wings of the clouds on the river,
And jewelled with raindrops the mango-leaves quiver,
And tender boughs flower on the plain.....
But what is their beauty to me, papeeha,
Beauty of blossom and shower, papeeha,
That brings not my lover again?
Tell me no more of thy love, papeeha,
Wouldst thou revive in my heart, papeeha
Grief for the joy that is gone?
I hear the bright peacock in glimmering woodlands
Cry to its mate in the dawn;
I hear the black koel's slow, tremulous wooing,
And sweet in the gardens the calling and cooing
Of passionate bulbul and dove....
But what is their music to me, papeeha
Songs of their laughter and love, papeeha,
To me, forsaken of love?
By Sarojini Naidu, opens a new window
---
Chinese poems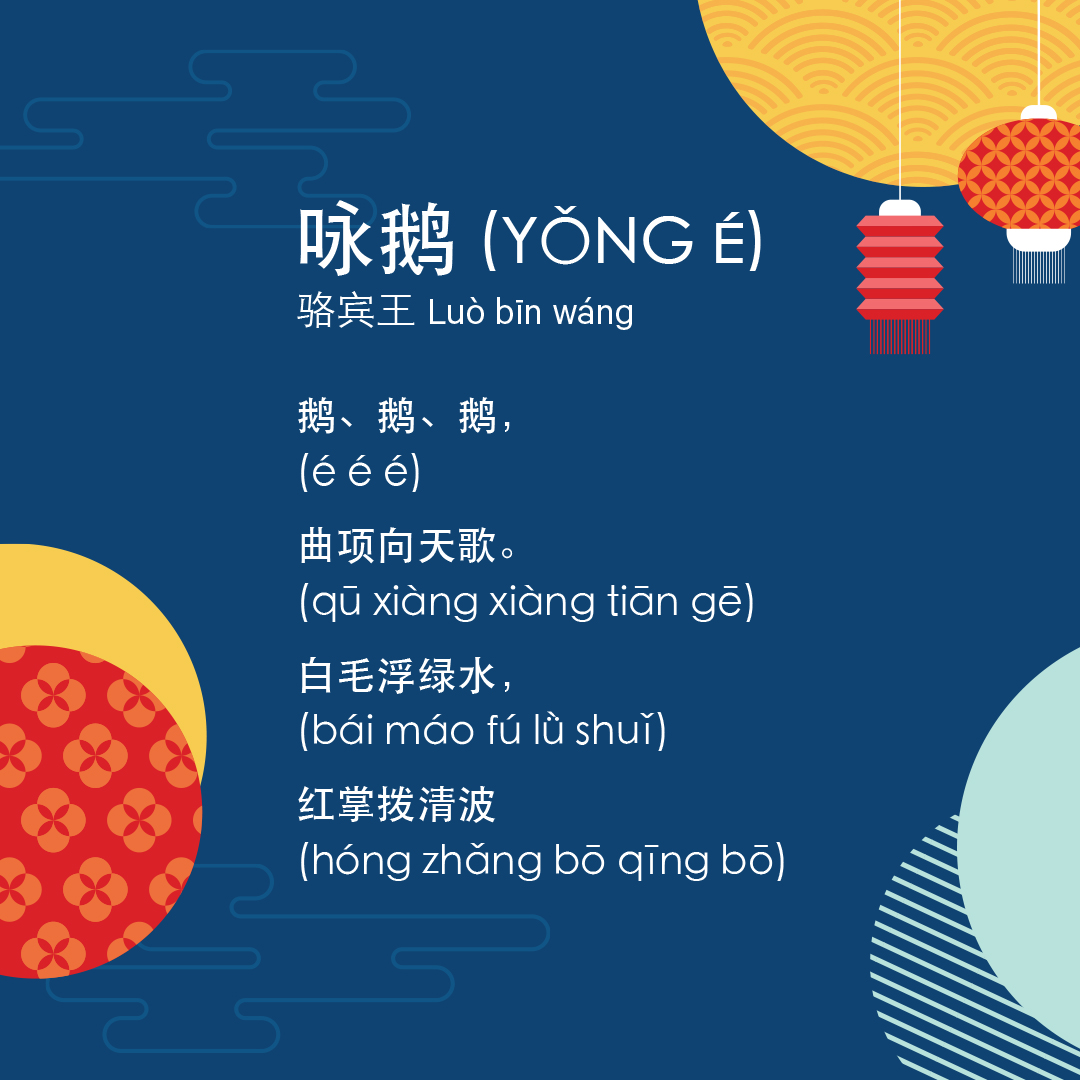 By Luò bīn wáng, opens a new window

Cultivating grains at noon,
Sweat dripping into the earth beneath.
Who would have thought the food on your plate,
each and every grain, came from hard work?
By Lǐ shēn, opens a new window
---
Korean poem
The Visitor
The coming of a person
is, in fact, a tremendous feat.
Because he
comes with his past and present
and
with his future.
Because a person's whole life comes with him.
Since it is so easily broken
the heart that comes along
would have been broken ― a heart
whose layers the wind will likely be able to trace,
if my heart could mimic that wind
it can become a hospitable place.
By Jeong Hyeonjong, opens a new window
---
Japanese poems
Nizi tachite/ Tachimachi kimi no/ Aru gotoshi
The rainbow stands
As if you are here
In a moment.
Haiku by Takahama Kyoshi, opens a new window

On the white sand
Of the beach of a small island
In the Eastern Sea.
I, my face streaked with tears,
Am playing with a crab
Tanka by Ishikawa Takuboku, opens a new window
---
Filipino poem
By Mesándel Virtusio Arguelles
Translation by Kristine Ong Muslim
PHILIPPINES MOTHER AND CHILD, 1965
ni Enrique Villasis
Nilalagnat ang liwanag mula sa gasera. Tanging ito lamang
Ang pagmamay-ari nila. May ilang alam na alamat ang ina:
May nagmula sa matatandang sibilisasyong ginilitan ng digma,
Nilamon ng ating pagkalimot. Sa bawat pagtatapos ng salaysay
May nabibitak na pag-ibig. Ito lamang ang kanyang maiaalok
At ang isandipang liwanag. Nagliliyab ang mga alaala habang
Tinutupok ang mga salitang walang mukha katulad ng ama.
Na ang bawat pakikipag-usap sa anak ay isang panunulay
Sa kasinungalingan. Naninimbang ang pag-asa sa mumunting
Ngiti ng anak, sa nagpupumintig na nakapiit na tinig at pilit
Bumubuo ng pantig na aalo sa kanya. Hindi maaring matulog
Ngayong gabi. Sa labas nakanguso ang himagsik ng nagdidilim
Na hangin. May nunal sa talampakan ang sanggol at sa tuwing
Dumadagundong, itinatago ng kaparehas ang nagtatakda
Ng tatahakin niyang tadhana. Papatuluyin niya sa bibig ang gatas.
May pangil ang dilim na sasagpang sa ningas at bago tabingan
Ang kanilang paningin, magsisimulang magsalaysay ang ina
Ukol sa batang kumain ng kidlat at naging isang alitaptap.
PHILIPPINES MOTHER AND CHILD, 1965
By Enrique Villasis
The lamplight is feverish. This is all
They own. The mother knows a few myths:
From old civilizations with throats slit by war,
Devoured by forgetting. At the end of every story
A love is chipped away. This is all she can offer
Along with an arms-breadth of light. Memories blaze
As they raze faceless words such as father.
That every conversation with a child means crossing a bridge
Towards a lie. Hope remains uncertain in the small
Smile of this child, in the tremulous captive voice
That insists on forming syllables to comfort him. No sleep
Tonight. Outside, the darkening wind points with its lips, rises
In revolt. There is a mole on the infant's sole and with every
Rumble, the other foot hides it, hides that which defines
Its fateful treading. The babe lets milk into its mouth.
The dark's fangs bite into flame and before curtains
Are drawn, the mother begins telling the story
Of a child that ate lightning and is transformed into a firefly.
Translated by Mikael de Lara Co