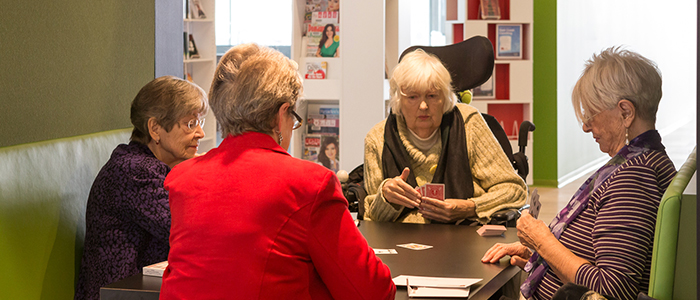 Our Libraries are shaped by our community; by you and your needs.
We work to make our spaces, collections, and services as barrier-free as possible so that they can be enjoyed by everyone.
Accessibility features, resources, and services
Accessibility at Our Library Branches

Read about the accessible features and technologies available at your Library.
Explore the various accessible items and adapted formats in our collection, including CELA and NNELs for individuals with print disabilities.
Discover stories from community members and accessibility advocates, community resources, and reading recommendations, curated in partnership with the accessibility community.
Home Delivery is a free service for individuals who are unable to visit a Halifax Public Libraries branch due to disability, long-term illness, or caregiver responsibilities.
Learn more about how Halifax Public Libraries is working to ensure that everyone is included and reflected in their public library.
Contact us
We're always open to your suggestions on how we can improve our spaces, services, and collections.
For more information, contact:
Mairead Barry - Senior Manager, Strategy
Phone: (902) 490-5898
E-mail:  barryma@halifax.ca