Accessibility at Library Branches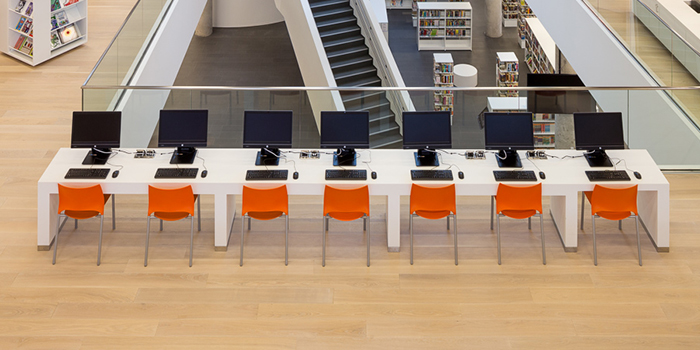 All our locations offer unique environments to foster discovery, creativity, and engagement.
The following equipment is available at some or all of our branch locations.
Assistive technology workstations
All our Library desktop computers have NVDA Screen Reader programs installed. Also, large-print keyboards and optical trackball mice are available for use with public PCs at some locations. Ask us!
We also have clearly marked assistive technology workstations in our computer areas at the following branches.
You can drop in or book ahead.
All computers shut down 15 minutes before our location closes.
Available at:
Workstation features:
Adjustable table for wheelchair access
24-inch screen for larger viewing
Large-print keyboard
Scanner
JAWS 2020 screen reader software
Windows 10 screen reader
Windows 10 magnifier
Standard Microsoft Office software
Internet access
CCTV Magnifier
You can use this closed circuit television system (CCTV) to enlarge text from a page onto a screen, making it up to 50 times larger.
Available at:
FM Personal Amplification System
This tool transmits sound from a microphone to a receiver via FM frequency. It can be used in conjunction with a hearing aid or earplugs.
Available at:
Hand-held magnifiers
Available at: