Curious about local art? We are too!
When it comes to the arts, Nova Scotia is spoiled for talent, and we're pleased to feature local art in many of our Library spaces.
From The Sunroom at Central Library to art displayed in our branches, we want to give local artists space to connect with our community and share their vision.
---
Current Exhibits
Information on next art display coming soon. 
Learn all about The Sunroom, its history, and how to apply to share your art in this space.
---
Information on next art display coming soon. 
---
On permanent display
Sylvia Ireland
A long-time resident of Bedford, Sylvia Ireland is well known for beautifully showcasing the colours of nature.
Bedford School of Art
The individuality of these young artists jumps from page. Each line drawing finely expresses the imaginative perspectives of the artist, demonstrating the benefits of Bedford School of Art's fun and collaborative instructional style.
Janet Englehart
Capturing the fine elements of nature found in and around Bedford, Janet Englehart's collection of photographs has been a favourite for local residents for years.
---
Information on next art display coming soon. 
---
Information on next art display coming soon. 
---
On display April 2021
Dream On: Art by Sandra Pedersen
Our dreams are a wondrous thing. Whether while we sleep, or during our waking hours, dreams inspire us. From the mundane wishes of everyday life to the life-changing goals of our wildest imagination, dreams can lead us in new, unexpected directions.  With our dreams, our courage, belief in ourselves, and a spirit of adventure, we can live the life we truly desire.
Sandra has been an artist since childhood, finding her bliss in creation of many kinds. Processing and expressing emotions is the key to her work/play. She is an avid painter, knitter, seamstress and crafter. She finds inspiration in nature, music, and her relationships. What others see as "garbage" may inspire her to start a piece of art: a broken teacup, a specially shaped piece of discarded plastic, old clothing, an unusual branch, a feather. Sandra believes there is beauty in every little thing, if you simply look for it. Sandra channels emotions, dreams, conscious musings, and passing thoughts into art. Filled with vivid movement and lush colours, these abstract, multi-media pieces are meant to inspire an emotional response.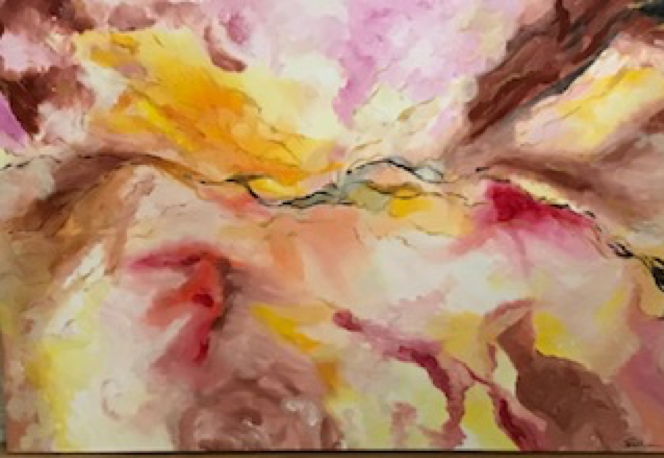 A Link Between Worlds: The Unreal – Art Exhibit by Tristan Burns
(Assorted media - Oil, Acrylic, and Watercolour)
"From a young age, I was interested in seeing and imagining places far beyond my small home town of Bridgewater. As I learned more about the world around me, my curiosity expanded beyond this blue wanderer and far beyond the stars, and even reached into the territory of fiction.
The possibilities of life and landscapes are endless. For example, chlorophyll is the primary photosynthetic compound on Earth, but retinal (which is a purple colour) is far simpler in structure and can serve the same purpose. Animal life beyond Earth may be composed of silicon-based molecules rather than carbon. Some life may even challenge our understanding of the word – on Earth, viruses exhibit only some of the main "requirements" of life as we know it.
Ultimately, my regard for the possibilities of life beyond Earth, and the exhibition of these possibilities in fiction, were the driving forces behind these works on the wall. These works depict life on two worlds that I created: Ochten and Masalii. Ochten is a planet much like ours and has some life that mirrors our own, while Masalii is a "purple Earth" – a planet with plants that use retinal for their photosynthesis. Ochten serves as a familiar yet alien place that the viewer can use as a "launching point" to visualize other, far stranger worlds such as Masalii. The viewer is free to imagine what types of creatures would live in these environs and how they interact with other species and their surroundings."
Email: tristanilburns@gmail.com
Twitter: @TristanLoupmont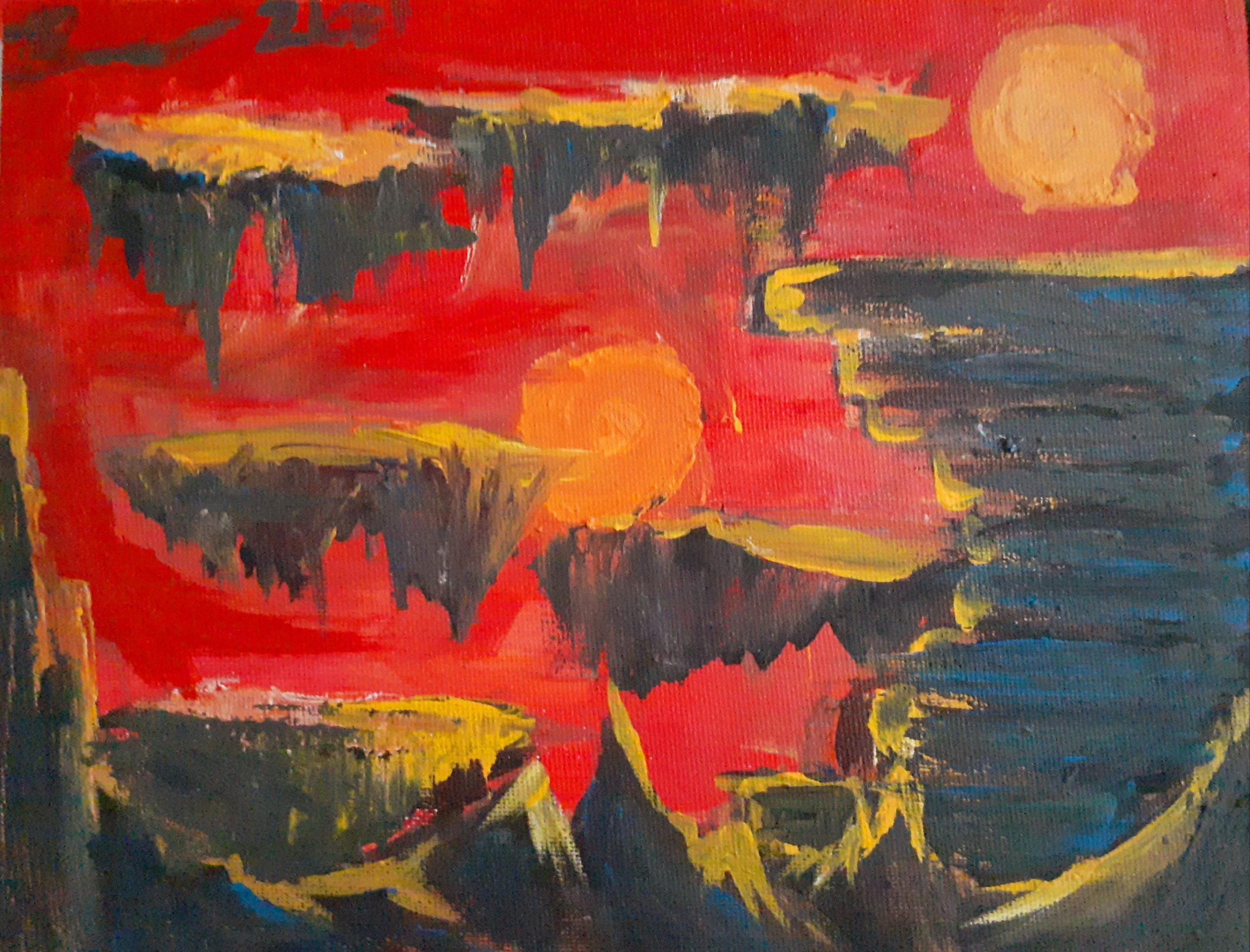 ---
On display February 2021 - May 2021
Art by Eastern Shore District High School: Shoe Sculpture Project
The students at Eastern Shore District High School worked on a sculpture project using a shoe as the foundation for exploration. The concept of "form follows function" was the vehicle for visual problem solving. Changing the shoes' function from a means of physical journeying to creative journeying took these students to diverse places of discovery. We hope you enjoy the arrivals!
---
Information on next art display coming soon. 
---
On display April 2021
Art by Anamarija Wagner
Anamarija Wagner came to Canada as a 7-year-old child in 1967.
"I loved to doodle as a child and would draw on anything I could get my hands on and was lucky my dad was a printer and could bring home boxes of colour paper. I loved to read and a favourite pastime was to read children's books without pictures and then draw pictures to depict what I read. At the age of 11, I entered a library contest where you could submit artwork, a poem or an essay.  The artwork had to come from reading one of the books they chose and illustrate the book. Well that was right up my alley! I ended up winning first prize across the province. I was thrilled. However my passion had to be set aside when life got too busy helping my parents with my younger siblings."  
It wasn't until 35 years later, after a battle with breast cancer, that Anamarija picked up a canvas and some paints again. Then again, in 2020 Anamarija picked up charcoal, watercolour, and acrylics and began painting again. Unfortunately this was just before a second primary cancer diagnosis of a very rare and aggressive stage 3 Carcinosarcoma.
"One of the things on my bucket list was to show my work in public. I feel I have come full circle, showing my work at the library since it was the library that, in 1971, validated my love of art."
---
On display March 2021
Art by Boma
Boma was born in the coastal city of Lagos in West Africa in 1980. At a very young age he took to drawing even before writing. During his early years Boma was quickly drawn to the art of comic books which he spent time creating many volumes of his own superhero tales. In later years during the 90's Hip-Hop cultural explosion he became fascinated with graffiti arts being the visual element of the music of the time. Further interest was cultivated in arts during his under graduate art and design courses while studying Architecture.
As an artist, Boma's mission is to express the beauty of humanity and human achievement through his paintings. Boma lives and works in Halifax, Nova Scotia.