Curious about local art? We are too!
When it comes to the arts, Nova Scotia is spoiled for talent, and we're pleased to feature local art in many of our Library spaces.
From The Sunroom at Central Library to art displayed in our branches, we want to give local artists space to connect with our community and share their vision.
---
Current Exhibits
On display November 13, 2018 to January 5, 2019
Make yourself at home in The Sunroom at Central Library. It's the perfect place to catch up with friends, get a little work done, and discover local art.
Learn all about The Sunroom, its history, and how to apply to share your art in this space.
---
On display until November 24, 2018
Art by Marijke Simons
Medium: Gouache on an illustration board 
Marijke Simons has illustrated several children's books including, The Flying Fish Kite by Lilla Stirling, and Who's a Scaredy-Cat by Joan Payzant. She illustrated and wrote Jigs and Reels, a cruise in Maritime waters, and The Flying Squirrel Stowaways. The latest book she has illustrated—featured above—is A Halifax Time Travelling Tune by Jan Coates.
After growing up in Montreal and living in Amsterdam and London, Marijke settled in Dartmouth to raise a family and pursue a career as an art teacher. Now retired from the school system, she illustrates and continues to enjoy teaching art to children in her studio, overlooking Halifax Harbour.
" I find that I enjoy the challenge of bringing stories to life through illustrations and building these images around movement and action."
---
On permanent display
Sylvia Ireland
A long-time resident of Bedford, Sylvia Ireland is well known for beautifully showcasing the colours of nature.
Bedford School of Art
The individuality of these young artists jumps from page. Each line drawing finely expresses the imaginative perspectives of the artist, demonstrating the benefits of Bedford School of Art's fun and collaborative instructional style.
Janet Englehart
Capturing the fine elements of nature found in and around Bedford, Janet Englehart's collection of photographs has been a favourite for local residents for years.
---
On display November 2018 

Along the Shore by Joan Meloni 
"This is my first solo show. The theme for this show is the feeling for the ocean with the water of the coast and the lakes of the land. I have spent many 'a summer day enjoying the beaches of the Eastern Shore with family and friends. The wind and waves give me a feeling of movement and adventure."
Joan Meloni was born and raised in Nova Scotia, and has admired the natural beauty of the people and the region. Through the years, she has represented them by using various mediums, such as photography, watercolour, and oil painting.
She has followed a philosophy of life-long learning, while raising a family and working full-time. Since retiring, Joan has been able to pursue her yen for change, and to find ways to express her ideas visually through her play with colour.
Joan has attended workshops and has studied figure drawing with Jane Schlosberg, and currently enjoys oil painting classes with Professor Zeqirji Rexhepi. 
---
On display November 2018 
Art by Delano LaiFatt, Sylvia Ireland, Hoda Azar, Ruth Ward, and Gillian McCully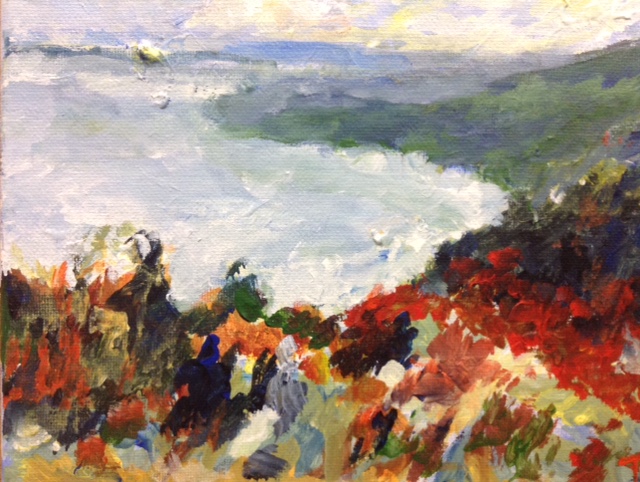 ---
On display September - November 2018
Kilnworks Minis by Jo-Ann Shaw, IGMA Artisan

From drawing and sketching as a childhood hobby, Jo-Ann discovered the timeless medium of bronze while working at a local foundry and began sculpting and casting horses in bronze, work for which she has achieved North American recognition. Since 2007, she has returned to the pencil and is now creating commissioned pet portraits in pencil and coloured pencil as well as watercolour even while working full-time.
Jo-Ann has also been creating miniature furniture and accessories, and with her interest in pottery, she decided to combine the two and started making miniature pottery in 1990. In 2016, she achieved Artisan status for her miniature work in leather.
Her education in Interior Design at the University of Manitoba rounded out her strong sense of design and composition and is apparent in her art.  She has had many occupations, including a stint at the prestigious Spruce Meadows Stable in Calgary, Alberta, which allowed her to work closely with her subjects, providing the depth of observation and attention to detail that characterizes her work.
---
On display November 2018
Photography by Mimmi Henriksen 
Born and raised on Vancouver Island, Mimmi has enjoyed her adult life in Nova Scotia. Always interested in the natural world, she likes to roam through its light.
Mimmi has lived at the Hideaway in Glen Margaret for almost 40 years, close to her favourite stretch of the coast. On retirement, she took up digital photography to expire her wonder. 
"I sit, I watch, and then the light breaks on something overlooked. As Freeman Patterson said 'Photography for the joy of it.'" 
---
On display November 2018 
Art from Rachael Higgins
"Capturing the beautiful landscape the East Coast has to offer, as well as other parts of the world!"
Rachael Higgins is a self-taught photographer from the St Margaret's Bay area; she has a double major in Mathematics and Economics from Dalhousie University in Halifax. Photography is one of Rachael's favourite past times. She started when she was in high school and continued throughout her post secondary education.
---
On display November 2018 to February 2019 
Art from Catherine Bagnell-Styles 
"I am a Halifax-based artist who loves colour, texture, character and light in places, people, and paintings. My paintings are often joyful, always colourful, and sometimes idyllic. I paint in a light-filled studio in beautiful Ketch Harbour, as well as en plein air, especially when travelling. 
Landscapes, streetscapes, and occasional still life seem to attract me the most, but...you never know what's next. The collection at Woodlawn Library includes work from a recent trip to Languedoc region of France as well as local pieces. All are acrylic and most are painted with palette knife, so they are highly textured and impressionistic."