Curious about local art? We are too!
When it comes to the arts, Nova Scotia is spoiled for talent, and we're pleased to feature local art in many of our Library spaces.
From The Sunroom at Central Library to art displayed in our branches, we want to give local artists space to connect with our community and share their vision.
---
Current Exhibits
On display September 6 - October 27, 2018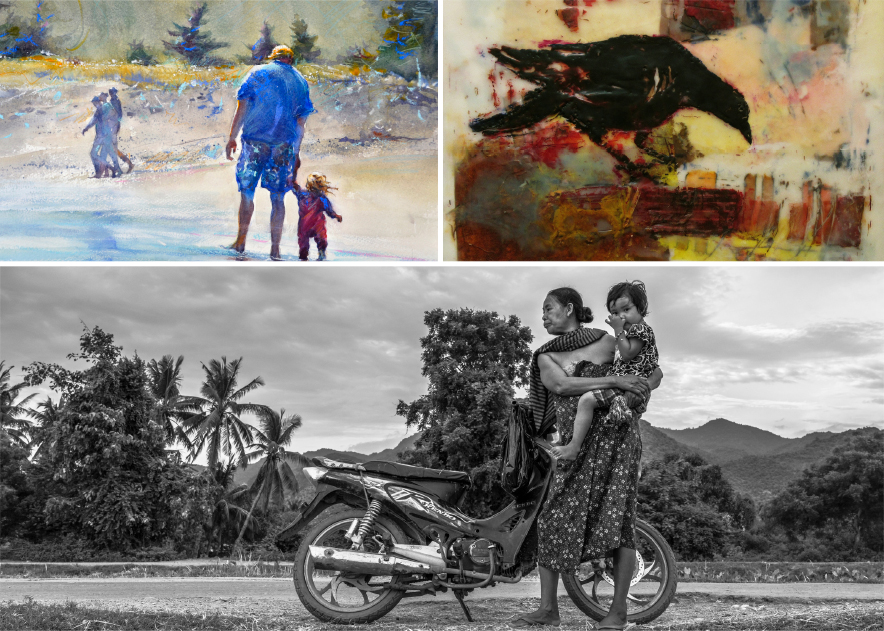 Make yourself at home in The Sunroom at Central Library. It's the perfect place to catch up with friends, get a little work done, and discover local art.
Learn all about The Sunroom, its history, and how to apply to share your art in this space.
---
On display September  -  October 2018
Keith Lake
Keith Lake was born in 1954 in Middleton, Nova Scotia. When he was a year old his family moved to Summerville, Hants County, Nova Scotia. At the age of six Keith contracted polio and spent six months in the Children's Hospital in Halifax. The outcome of having polio left Keith with a full leg brace on his right leg. Keith worked at the Halifax Dockyard in industrial steel refinishing and later went on to carpentry.
Keith started doing folk art and caving when he was no longer able to work as a way to keep busy and enjoys it very much. Keith is a member of the Nova Scotia Wildlife Carvers & artists Association. 
---
On permanent display
Sylvia Ireland
A long-time resident of Bedford, Sylvia Ireland is well known for beautifully showcasing the colours of nature.
Bedford School of Art
The individuality of these young artists jumps from page. Each line drawing finely expresses the imaginative perspectives of the artist, demonstrating the benefits of Bedford School of Art's fun and collaborative instructional style.
Janet Englehart
Capturing the fine elements of nature found in and around Bedford, Janet Englehart's collection of photographs has been a favourite for local residents for years.
---
On display August 2018
The Group of Grannies
A group of talented seniors meet and paint together on Thursday afternoons at St. Vincent de Paul. For the month, we will feature six artists:
Judy Avery
Roseanne Bedard
Audrey Curran
Angela Soucie
Nancy Morash Tingley
Kitty Wiley
---
On display September 2018
The Blue Mountain Painters
The Blue Mountain Painters are a group of 15 artists who painted in the Blue Mountain Birch Cove Lakes Park in the summer of 2018. Some of the artists are Violet Rosengarten, Tom Forrestall, Geoffrey Grantham, Ron Kuwahara, Carol Morrison and Gail Sutherland. We will be exhibiting their work at the Keshen Goodman Library, a vibrant community hub close to the BMBCL Park.
This project is being promoted by the newly formed Friends of Blue Mountain Birch Cove Lakes Society; CARP NS (A New Vision of Aging) and the Halifax North West Trails Association.   
The purpose of this exhibition is to raise public awareness about the proposed park, and to demonstrate its beauty through works of art. 
---
On display September - November 2018
Kilnworks Minis by Jo-Ann Shaw, IGMA Artisan

From drawing and sketching as a childhood hobby, Jo-Ann discovered the timeless medium of bronze while working at a local foundry and began sculpting and casting horses in bronze, work for which she has achieved North American recognition. Since 2007, she has returned to the pencil and is now creating commissioned pet portraits in pencil and coloured pencil as well as watercolour even while working full-time.
Jo-Ann has also been creating miniature furniture and accessories, and with her interest in pottery, she decided to combine the two and started making miniature pottery in 1990. In 2016, she achieved Artisan status for her miniature work in leather.
Her education in Interior Design at the University of Manitoba rounded out her strong sense of design and composition and is apparent in her art.  She has had many occupations, including a stint at the prestigious Spruce Meadows Stable in Calgary, Alberta, which allowed her to work closely with her subjects, providing the depth of observation and attention to detail that characterizes her work.
---
On display September 2018
Gerry Green 
Gerry Green is a self taught artist who, from an early age, had an avid appreciation for art and how artists interpret their chosen subjects. In 2002, upon retirement he and his wife moved to Nova Scotia to be close to their grandchildren. After the completion of a number of landscaping and gardening projects (another great love of Gerry's) over the past number of years, he found himself with more time on his hands. Two years ago, at the urging of his family, he decided to try his hand at watercolors. He found it to be a very challenging medium, however before too long it became a true passion of his.
Gerry has a variety of interests when it comes to subject matter as is obvious from his works now on display. He's always up for a new challenge when it comes to trying to interprets chosen subjects. His present interest has him focused on impressionism.
"Art is so subjective" Gerry says. "The presentation of colour, together with the interpretation of light, makes a piece come alive, yet everyone will see it differently."
---
On permanent display
Hooked Rug Museum of North America
Visit us in Tantallon to see Noah's Ark hooked by Mary Sheppard Burton, which is on permanent exhibit with us. We're also currently displaying the work of two Rug Hooking Artists of the Year, and we plan new group exhibits annually. If you're interested in learning how to hook rugs, keep your eye on our events - we hold a number of workshops and hook-ins throughout the season.
The Hooked Rug Museum of North America, located in Hubbards, NS, has over 8,500 sq ft of floor space showcasing historic and contemporary rug hooking art and artifacts. Visit their website to learn more. 
---
On display September 2018
Nicole Baker 
Nicole Baker was born and raised in Bathurst, New Brunswick. She moved to Prince Edward Island and then then to Nova Scotia. After a 35-year career as a public servant, and becoming an empty nester after their four kids grew up and moved away, Nicole received a painting set from her husband for her birthday. She took on painting as a retirement hobby and has not looked back since. She loves to paint landscapes, seascapes, and animals—especially birds. Each painting represents a challenge of some kind as well as a learning experience. Nicole enjoys challenging herself and making people happy with her paintings.
---
On display July - October 2018
Sheila C. Taylor
"In creating my non-representational work, I enjoy the process of intuitive response to the last mark or color I have put on the canvas. I continue until the piece is resolved, until I get a sense of balance and the work evokes a feeling within me that I hope an observer can experience".
Sheila lives and paints in downtown Dartmouth. Her work is influenced equally by everyday surroundings and experiences.