Curious about local art? We are too!
When it comes to the arts, Nova Scotia is spoiled for talent, and we're pleased to feature local art in many of our Library spaces.
From The Sunroom at Central Library to art displayed in our branches, we want to give local artists space to connect with our community and share their vision.
---
Current Exhibits
On display March 20-April 30, 2019
pîkiskwe-speak
Lost My Talk & other artworks by Lana Whiskeyjack
Lana Gets Her Talk (documentary) by Beth Wishart MacKenzie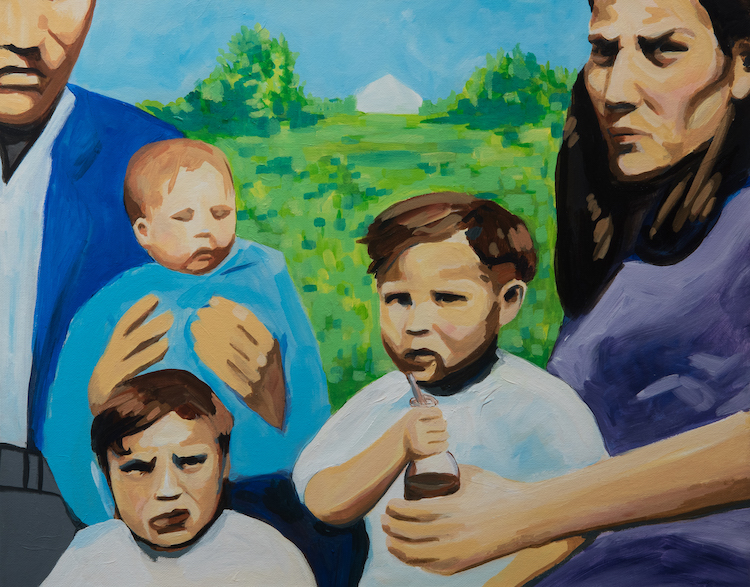 Make yourself at home in The Sunroom at Central Library. It's the perfect place to catch up with friends, get a little work done, and discover local art.
Learn all about The Sunroom, its history, and how to apply to share your art in this space.
---
On display March 2019
Art by Paul Bourgeois
Paul Bourgeois is from Nova Scotia. Paul has a BA, BFA and an MLIS. Paul has lived in many countries including India, Vietnam and Finland.
An Epiphany at Midnight deals with issues of divorce, alienation, unemployment and homelessness. The characters and situations are raw and sometimes politically incorrect.  Paul says "Sometimes a person just feel like screaming, and I suppose this comix series is my way of screaming."
---
On permanent display
Sylvia Ireland
A long-time resident of Bedford, Sylvia Ireland is well known for beautifully showcasing the colours of nature.
Bedford School of Art
The individuality of these young artists jumps from page. Each line drawing finely expresses the imaginative perspectives of the artist, demonstrating the benefits of Bedford School of Art's fun and collaborative instructional style.
Janet Englehart
Capturing the fine elements of nature found in and around Bedford, Janet Englehart's collection of photographs has been a favourite for local residents for years.
---
On display March 2019
Art by Judy (Lockhart) Hammond
Judy grew up in Greenwood, Nova Scotia and moved to Halifax in 1981.  Judy has always enjoyed drawing and in the mid eighties took life drawing and calligraphy courses during evenings at NSCAD. Judy's art making was put on hold while she earned a geography degree, raised a family and worked as a hydrographer, making navigational charts. 
Judy always admired watercolour paintings. In 2013 she decided to get back into artwork and took classes in the evening from Anna Scalin-Ellis, followed by afternoon classes with Kate Stanfield of the Dartmouth Arts Students League. She has taken numerous art workshops organized by the Dartmouth Visual Arts Society.
Judy enjoys painting plein air and has painted at the 'Paint Sea on Site' fundraiser in Lunenburg in previous years.
On display March 2019
Art by Violet O'Connell 
Violet O'Connell is a local artist who began painting after retirement. Violet studied watercolour under the direction of Grace Luke, Anna Ellis and currently studying under Janet Warnes-Morris. She studies acrylic painting with Jane Schlosberg. Violet is an active member of the Dartmouth Visual Arts Society.
---
On display March 2019
Art by Caroline Nuna Murray
Caroline Nuna Murray, Acadian-Metis Visual Artist and Art Educator, born in Halifax 1954, received a Diploma in Fine Arts from Fanshawe College, Ont. 1979, along with a Bachelor Fine Arts and a Bachelor Arts Education from NSCAD 1989. She has also taught Visual Arts with the Halifax Regional School board for 23 years and has been a practicing artist since 1979.
The work represents pieces from 1979 to the present. Caroline choice of inspirations comes from her profound connection with Mother Nature and the Spirit world within it. Her choice of materials are mainly acrylic but she also uses other materials such as beads, semi-precious stones, wood, and natural materials.
---
On display March-May 2019
Art by Minaz Jantz
Minaz Jantz' work can be colourful, expressive and sensual, mixed with 'fantastic realism' that can include subjects such as floral, landscapes, nudes, animals, abstract, portraits, and still life.
Pet portraits became a subject of Minaz' to paint years ago, as they were a care provider for many people's pets. Minaz fell for those furry faces and began painting them. Painting pet portraits brought joy to Minaz in capturing their unique personalities and seeing people smile when they viewed their characters in fine art. 
To view more art by Minaz visit www.artgirlgallery.com.opens a new window
---
On display March 2019
Art by Sunmi Eun
Sunmi was born in South Korea in 1981. Sunmi began painting in 1999 and majored in industrial design in university. She moved into Halifax three years ago and recently started painting again.
The koi in Sunmi's paintings represent family, friends and neighbours. Sunmi paints koi fish which can get along with each other even though they have different colours and shapes, which expresses her wish of living harmoniously with people in a foreign country. Sunmi is also trying to express the environment and emotional state with flowers and patterns on the background of her paintings.
---
On display March 2019
Art from the Hooked Rug Museum of North America
The Hooked Rug Museum of North America was the dream of Suzanne Conrod of Chester, Nova Scotia. Together with her husband Hugh, they began collecting rugs and artifacts that would form the basis for a museum collection.
For more information visit the Hooked Rug Museum of North America's website.opens a new window
---
On display March 2019
Art by Anne Fraser
Anne Fraser began painting in 1996 and lives in Timberlea, NS. Anne is both challenged and delighted by the medium of transparent watercolour. Anne paints mostly representational landscapes working on location or from sketches and photographs. Anne likes to share her vision of the natural beauty around her and invite the viewer into the painting. 
Anne enjoys painting outdoors and participates in the Paint Peggy's Cove and Lunenburg's Paint Sea on Site events.​