Curious about local art? We are too!
When it comes to the arts, Nova Scotia is spoiled for talent, and we're pleased to feature local art in many of our Library spaces.
From The Sunroom at Central Library to art displayed in our branches, we want to give local artists space to connect with our community and share their vision.
---
Current Exhibits
On display January 19, 2019 to March 5, 2019

Art by Marilyn Smulders
"Quilt making is being re-invented by contemporary quilt makers the world over. This exhibition, Running With Rotary Cutter, is a nod to North American quilt making of the past as well as its present – unfettered by patterns, bed sizes, and practicalities. It shows my own direction as a contemporary maker, as I indulge in a love for colour, have fun, and experiment. Some of these works are inspired by the Amish tradition in quilt making, with the use of bold, solid coloured fabrics set against a black background. Others show my current direction, in which I combine quilt making with screen printing as a showcase for original textile designs."
Marilyn walks around with ideas for new fabric designs dancing in her head. She feels fortunate to be a part-time student at NSCAD University, where critiques with other students are both thrilling and intimidating. After 13 years of part-time study, she will be graduating with a Bachelor of Fine Arts degree in spring 2019. She is delighted to work at a job she loves, as the executive director of the Writers' Federation of Nova Scotia, a nonprofit arts organization serving the province's writers. Proud mom of three wonderful kids, she and her husband Peter live in Bedford, NS, with a playful black lab, Toulouse, and an orange put-upon tabby cat, Vincent.
To view more of Marilyn's work visit her Instagram page.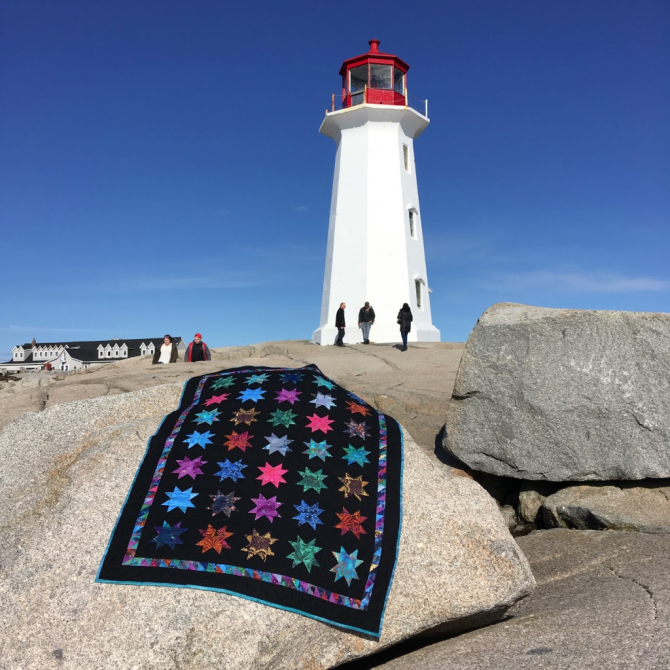 Make yourself at home in The Sunroom at Central Library. It's the perfect place to catch up with friends, get a little work done, and discover local art.
Learn all about The Sunroom, its history, and how to apply to share your art in this space.
---
Information for next display coming soon. 
---
On permanent display
Sylvia Ireland
A long-time resident of Bedford, Sylvia Ireland is well known for beautifully showcasing the colours of nature.
Bedford School of Art
The individuality of these young artists jumps from page. Each line drawing finely expresses the imaginative perspectives of the artist, demonstrating the benefits of Bedford School of Art's fun and collaborative instructional style.
Janet Englehart
Capturing the fine elements of nature found in and around Bedford, Janet Englehart's collection of photographs has been a favourite for local residents for years.
---
On display January 2019
Art by Steve Townsend
"I was interested in art from an early age. I started with charcoal sketches then moved on to coloured chalk. I knew l wanted to be an artist. 
As time went on my interests changed to photography. I earned a diploma in Creative Photography from Humber College. I worked for several studios in Toronto and Halifax as a photographers assistant. I also did darkroom work and negative and print retouching which, at that time, was done by hand. In November 1980 I started working for Atlantic Television. I did a lot of photography for low budget commercials, portraits of the on air staff and behind the scenes photos to promote our shows ... Shortly after starting in television I took a painting course over several evenings at NSCAD. I really enjoyed painting but decided to wait until I lived in my own place with enough room to work.
Thirty years went by before I took up the brush again. That was about six years ago. Early on I painted folk art, abstracts and realism. Now I mostly paint different styles of realism. Many of the scenes are made up, so my many years of experience with composition, perspective, colour, lighting and shadows comes in very handy."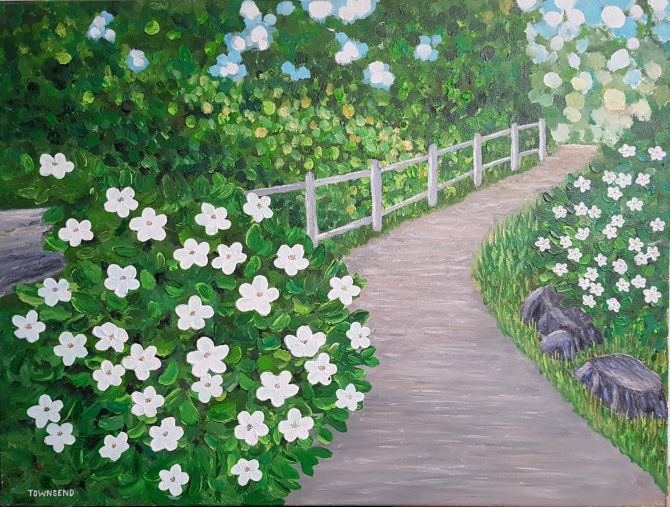 ---
On display January 2019
Art by Hanaa Walzer
Hanaa was born in Atlantic Canada and raised in the south of Switzerland. Hanaa has travelled and lived around the world experiencing many cultures which has helped shift her perspective. 
"The paintings on display [at Keshen Goodman Public Library] were inspired by an art course I took on some of the most influential post-war painters, and are my take on my own most recent assessment of the safe spaces women create for themselves within the boundaries afforded us, as opposed to the way others might want to view our role, and finally how things are more objectively. Lines aren't as clearly defined, boxes aren't as hermetically closed, and there are all sorts of influences and communication routes that filter through, creating a symphony that may seem chaotic at first but is very methodically curated, if you choose to pay attention."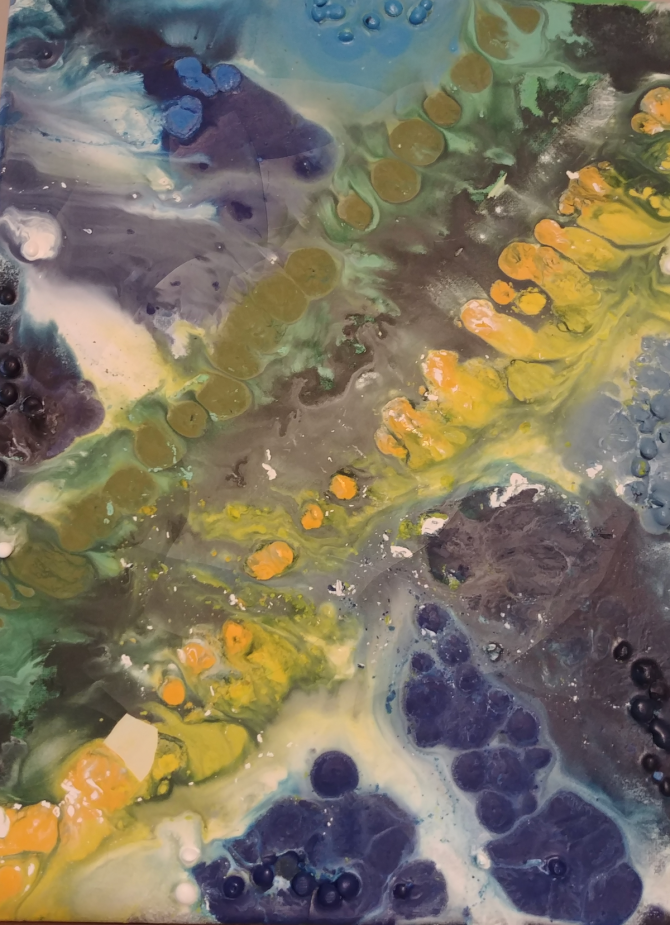 On display January 2019 
Art by A. Cieplinski
Out of My Head
"A multimedia display of original art pieces. Each piece is one of a kind, and from the heart. Vibrant, bright, and colourful pieces on display." 
---
On display December 2018 - February 2019 
Art by Karen Lia Schlick
Karen Lia Schlick graduated from the Nova Scotia College of Art and Design with Master's in Art Education. Her published thesis topic was "Art and Healing: A Perspective for Art Education". She has 30 years of experience teaching art education at the junior high level, as well as being a visual arts support teacher for the Nova Scotia visual arts curriculum in Dartmouth elementary schools. She has also taught art education courses at the University level, at the Nova Scotia College of Art and Design. Karen was awarded the Canadian Fitzhenry and Whiteside Award for excellence and innovation in art education in 1996. She was also named Nova Scotia Art Educator of the year by Visual Arts Nova Scotia.
"This exhibit could be considered a 'mini retrospective' in that it traces back through 46 years of my work as an artist. Along the way there have been various interests and changes, which I have tried to represent here with a cross-section of my work ... It has been interesting to reflect back on almost 50 years of work, and I would like to thank the Musquodoboit Harbour Library for this opportunity."
To view more of Karen's work visit her website.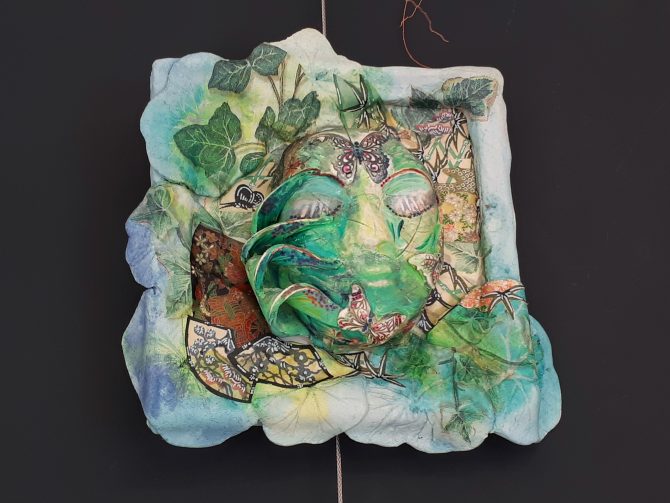 ---
On display January 2019
Art by Jennifer Miller
Jenn is a self-taught artist that uses her fingers mostly to create her paintings. She likes to create art that speaks through her. The art on display is that showcasing transformation, comfort and peace.
Jennifer's art speaks to her through energy, emotion and healing. She has an extensive background working with young children and teens and looks forward to bringing Therapeutic Art to this demographic along with adults. She uses a free flowing style of painting without fear or expectations. Her paintings can be detailed, abstract, or full of color. Jennifer is very passionate about the healing properties of art. Using tools of meditation and energy work is how she is able to teach and create.
Jennifer facilitates a monthly women's circle that fosters self-growth and empowerment while connecting to nature. She is also developing workshops that will help individuals tap into their inner creativity, with an opportunity for renewal and empowerment. 
Jenn is passionate, fun, grateful, and an advocate for mental health awareness. She resides in Nova Scotia as a proud mother of two amazing boys, who inspire her daily, and supported by Jonathan, whom she loves deeply.  She loves the ocean, warm beverages, nature, anything mystic and road trips.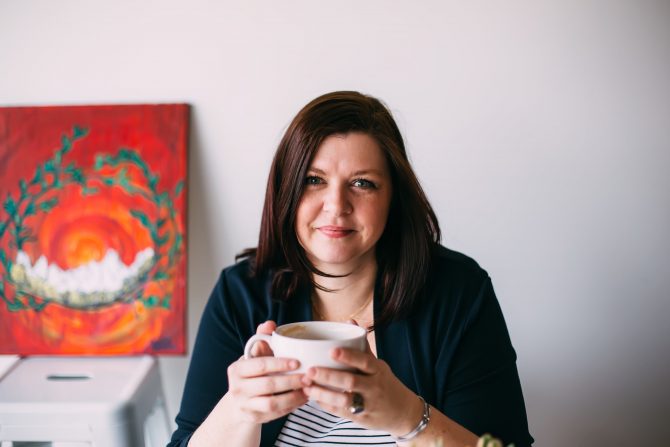 ---
On display January 2019
Art by Len Boyd
Len Boyd, currently resides in Hubley, NS and has been an active, self-taught artist for over two decades. After leaving his home province of BC at the age of 44, Len decided to start a new life in Halifax in October 2010, where he now lives with his spouse, Patty, and their three adorable cats; Ty, Rebel and Abby.
Working exclusively with acrylics, Len's passion for painting took him on a journey from 2012 to 2016 that landed him on the cover of two Canadian Airforce magazine publications and images referenced in an author's book on Canadian military aviation.
Len's medium of choice is acrylics and he enjoys tackling many challenges in the arena of subject matter. Recently, his main focus has been devoted to portraits and capturing the essence of sea and landscapes with concerted emphasis placed on loose brush work, striking contrasts and minimal blending.
To view more of Len's work visit his website.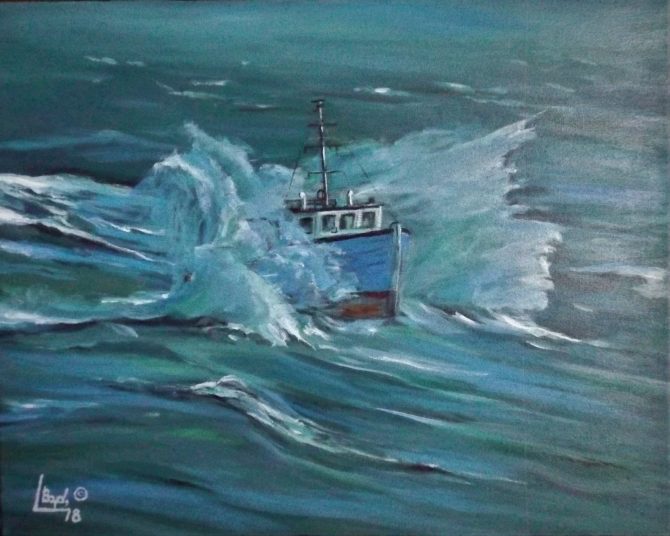 ---
On display November 2018 to February 2019 
Art by Catherine Bagnell-Styles 
"I am a Halifax-based artist who loves colour, texture, character and light in places, people, and paintings. My paintings are often joyful, always colourful, and sometimes idyllic. I paint in a light-filled studio in beautiful Ketch Harbour, as well as en plein air, especially when travelling. 
Landscapes, streetscapes, and occasional still life seem to attract me the most, but...you never know what's next. The collection at Woodlawn Library includes work from a recent trip to Languedoc region of France as well as local pieces. All are acrylic and most are painted with palette knife, so they are highly textured and impressionistic."