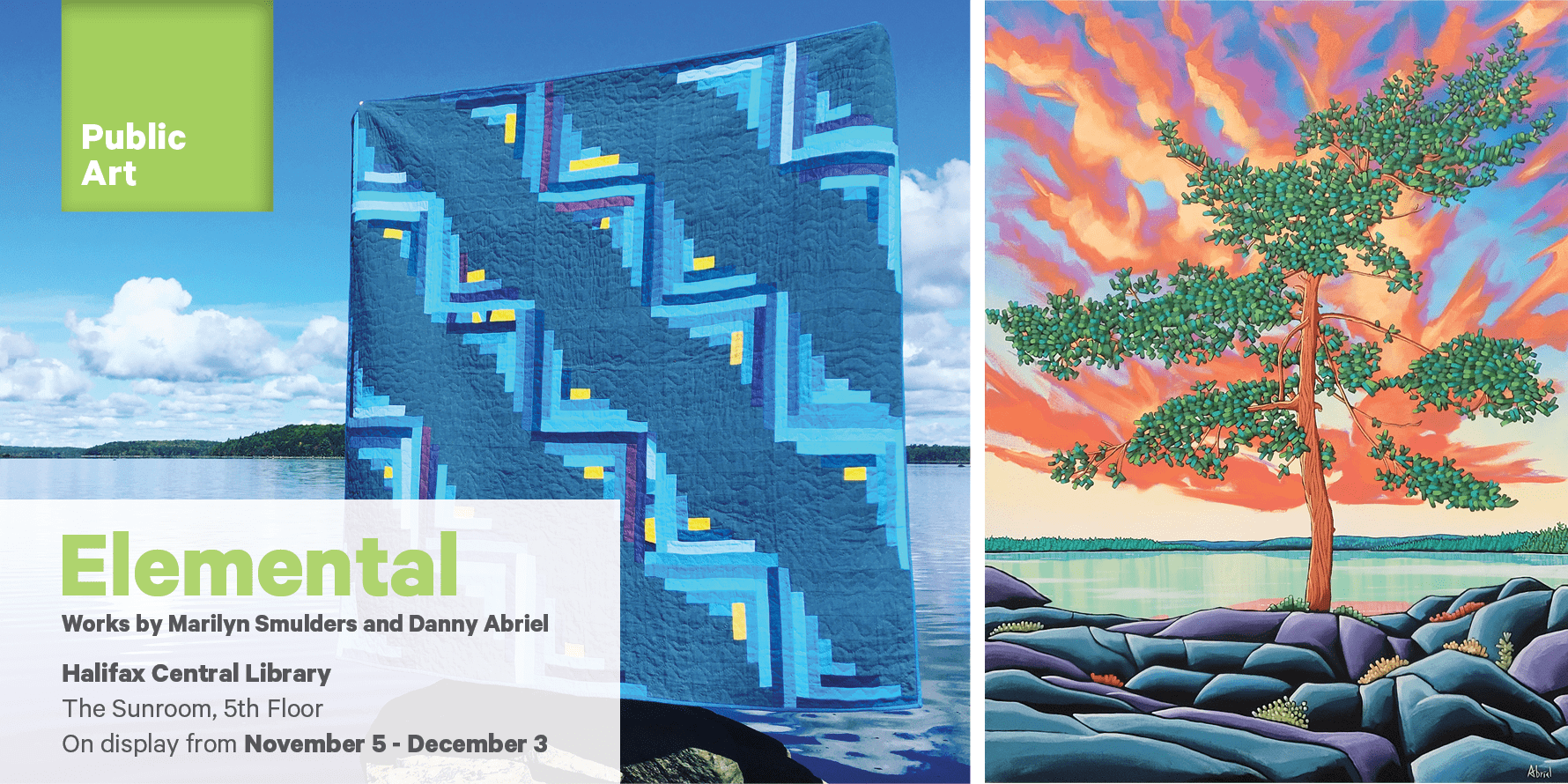 On display from November 5 to December 3, 2023, in The Sunroom at Central Library, opens a new window, Elemental. 
Elemental is a two-person exhibition by friends and artists Danny Abriel and Marilyn Smulders. Both artists share a palette that leans towards the bright side—raucous pinks, tangy oranges, sunshine yellows and luscious greens. Danny works with acrylic paints for his landscape paintings, and Marilyn uses cotton/linen fabrics for her handmade quilts. 
For this exhibition, the friends respond to natural elements of sky, earth, and water—and each other's work. Imagine loon calls, water lapping on a rocky beach, wind whistling through towering pines and hemlocks. Envision ombré sunsets and spectacular night skies, inky black and diamond-studded. Picture mudflats of deepest red and tide-carved shorelines. 
---
About the Artists 
Danny Abriel 
Danny Abriel is a nature-loving Nova Scotia native, whose trade is photography and passion is painting. Danny's works emerged with the depiction of wind-swept trees amid starry night skies. His creations are acrylic on canvas and employ bold, vibrant colours. As his stylistic approach evolves Danny remains true to the elements that inspire him to paint; the gentle beauty and drama of trees and their surroundings. Danny studied Fine Art at the Nova Scotia College of Art and Design and photography at NSCC. He has been a staff photographer at Dalhousie University since 1989. 
Marilyn Smulders 
Marilyn Smulders has always sewn and made things, but it wasn't until she was a mature student completing her BFA from NSCAD University in 2019 that she began making quilts that weren't necessarily for beds. Recently retired as the executive director of the Writers' Federation of Nova Scotia, she and her husband Peter have moved to a century home in Mahone Bay, where she is setting up a studio in the garret.   
---
The Sunroom is made possible by the generosity of Margot and Layne Spafford.