Written by Shelby, staff member, Halifax Central Library, opens a new window
Ancestry.com Library Edition is a free genealogy resource that you can access anytime at your local Library branch—no fee or library card required. It's a great place to get started on your genealogy research and is easy to use. Here are some of our top tips to get the best results out of your search.
Note: The provider made this resource available from home in 2020 and 2021, but has now resumed in-branch only access.
1. Be broad with your search
Whether you have a lot information on the person you're searching for or not, it's always a good idea to start your search broadly. For example, start with only a name and a birth date or death date. From the results page, you can see the accuracy of your initial search and narrow things down one field at a time by clicking "edit search". Add your ancestor's community and see how that affects the search results. Gradually add other information such as their spouse's name, the names of their immediate family members, their military service, or their occupation. Continue adding and subtracting information until you find the records you're looking for.

2. Be flexible with names and dates

There are endless possibilities for errors when it comes to searching for names. Maybe the name you called your great grandmother was actually her nickname or middle name. The name could have been spelled differently than you thought, recorded wrongly, or interpreted wrongly by the digitizer. If you're not getting the results you want, try playing around with the name. Set the search filters to "broad" to get names that sound like the one you searched for, similar names, or even just initials.
You can also use wildcard symbols to get spelling variations. Use "?" to get spelling variations for one letter in the name. For example, search "Lind?n" to get Linden, Lindon, Lindyn, etc. Use "*" to get spelling variations for more than one letter after the 3rd letter in the name. With this technique, "Lind*" could become Lindon, Lindenfield, Linde, etc.

3. Use suggested records wisely
When you do find your ancestor, the record often comes with suggested records – especially death records and marriage records. Ancestry.com will list other records it thinks are related to the person in your current record. Their system for connecting records is not perfect so always scrutinize the records to see if they are indeed related.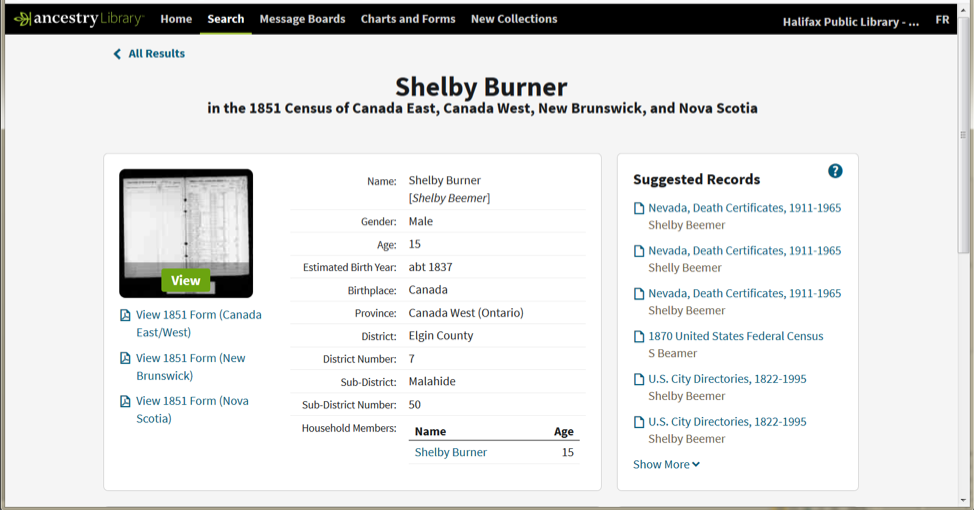 4. Be sure to verify records on family trees
Family trees on Ancestry.com Library Edition are built by everyday users of the website and are not verified by Ancestry.com. Though they can be very useful when making connections, you have to verify the records, sources, and connections yourself to make sure they are legitimate. As a Library Edition user, you will not be able to contribute to another person's tree or build your own, so you will have to rely on public family trees.
5. Don't give up!
If you didn't find what you were looking for, don't give up! Ancestry.com has frequent updates and digitization is a slow process, so be sure to check back every once in a while. There are many other great resources on our Local & Family History page, including FamilySearch, Canada Vital Statistics, and our Obituary Search Services.
If you would like help getting started with your search or want to find out more about the resources we offer, contact one of our three branches that offer 1-on-1 genealogy appointments: Halifax Central Library, Musquodoboit Harbour Public Library and Sheet Harbour Public Library.
---
Tips and common questions
Why can't I access Ancestry Library Edition in the Safari web browser?
Ancestry Library Edition is optimized for Google Chrome. The Google Chrome web browser is available for Mac and Windows.
Click here to download Google Chrome., opens a new window
---
Extra help: Watch our how-to tutorial on Niche Academy