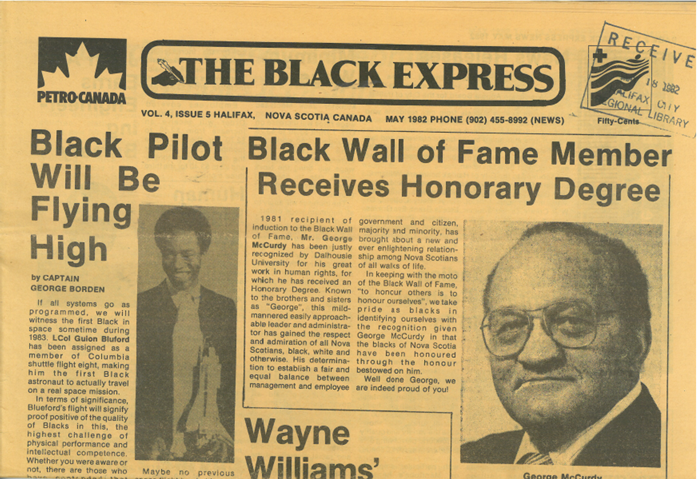 Halifax Public Libraries has a collection of historical and current African Nova Scotian press in the form of newspapers and newsletters. Much of the history of Black Nova Scotian press is told by George Borden in his compilation Cultural Newspapers Fill Print Media Void. This work includes commentary, history, and examples of these newspapers and newsletters. George Borden describes his work as an "anthology of black editorials, documentaries, stories, photos, advertisements, and history" (p. iii).

A brief timeline
The earliest print news written by and for African Nova Scotians was The Atlantic Advocate, which began in 1915. Issues of this newsletter can be found at the Nova Scotia Archives. The Atlantic Advocate was published for five years from Halifax and was "devoted to the Interests of Coloured People" (masthead).
Next to arrive on the scene was a publication from Sydney, Nova Scotia; The Nova Scotia Gleaner, which was first issued in 1929. Borden describes it as three double-sided pages with "advocacy issues, religious programs, education and literature, social events," (p. 3). There is only one copy available at the Beaton Institute, opens a new window, located at Cape Breton University.
It wasn't until 17 years later, in 1946, that the third newsletter, The Clarion, debuted in New Glasgow, Nova Scotia. The Clarion was published by Carrie Best, and was originally a church bulletin. Over time, it grew in size and gained some fame as the first issue described Viola Desmond's protest. Later, it became a national paper called The Negro Citizen (1949). Several issues can be viewed on the Nova Scotia Archives website, opens a new window, and the Archives has the remainder on microfilm. 
The 1960s saw the rise of the civil rights movement in Nova Scotia. The organization Black United Front of Nova Scotia (BUF) was based in Halifax and published its own monthly newsletter called Black Horizons, which detailed relevant issues and BUF news. "Horizons dealt largely with concerns and issues of discontent among blacks, as well as reporting on positive events and achievements reflecting progress and advancement" (Borden, p. 7).  Through the 1970s and 1980s, there were several publications that emerged—although many were short lived. These included The Black Express (originally known as "The Ebony Express News") which ran from 1978 to 1982, and The Jet Journal which ran in 1985.
More recent publications include Central Halifax Community News (2001-2007) and Africvoice (2006-2008). Both can be found at Halifax Central Library. One current and ongoing publication held at Halifax Central Library is Black to Business: the periodical of the Black Business Initiative. The magazine writes about business, profiles business owners and entrepreneurs, and provides resources. Learn more on the Black Business Initiative's website here, opens a new window.
Newspapers and newsletters produced in Nova Scotia detailed African Nova Scotia lives and interests on the subjects of news, commentaries, opinion, churches and religious life, women's achievements, youth and education, sports, organizations, arts and entertainment, military service, and more. Journalists and publishers included notable African Nova Scotians: George A. Borden, Art Ruck, Aleta Williams, Carrie Best, Percy Paris, and Sylvia Hamilton, to name a few.
Delve into history at the Library
The Library holds copies of many of these African Nova Scotian newspapers and newsletters. There are issues from historical and current publications that you can view at the Library. View them here.
Halifax Public Libraries owns: