Written by guest blogger, Susan McClure, Municipal Archivist
Looking to trace your roots? Halifax Municipal Archives, opens a new window can help! 
Municipal records are a relatively untapped source for family history research. If genealogists want to really get in touch with their ancestors, they may find these municipal sources useful. Note: Some records may be restricted until 20 years after the death of the individual.
Police and prison records
If you're serious about investigating your family history, brace yourself to discover unsavoury details. Perhaps you will find an ancestor who had trouble with the law.
Taxation records
Nothing is more certain than the fact that governments keep records on the taxes we all pay, and these ledgers can provide basic information on residents.  
The Town of Dartmouth gave a tax exemption to firefighters and the widows of deceased firemen. If you're looking for a firefighting ancestor, the Dartmouth Engine Co., the Union Protection Company of Dartmouth, and the Dartmouth Axe and Ladder Co. supplied:
In the early days, residents would work on roads rather than pay taxes for road maintenance. The municipality tracked their names in "statute labour" books:
Cemetery records
The municipality recorded details of resident's deaths, through the operation of municipally-run cemeteries:
Additional burial information can be obtained through Halifax's Cemetery Operations at (902) 490-4883 or cemetery@halifax.ca.
Social Assistance records
Until the 1990s, municipalities were responsible for social welfare and created records with a wealth of personal information that may be restricted until 20 years after their death to protect privacy, but eventually is available for family history research:
Municipal employee records
Your ancestor may have worked for the city/town/county; the Municipal Archives have these employment records:
School records
Most of us go to school, so these records are a great source for linking students to places and parents. Beyond municipal school board minutes, Halifax Municipal Archives has these unique sources:
Election records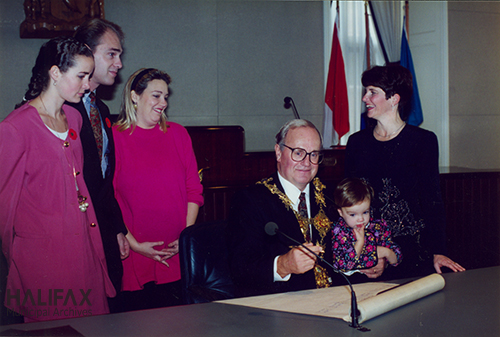 The Archives does not keep a lot of election records, but these voters lists are good sources:
---
Even if your ancestor didn't find their way into municipal records as a police officer, pauper or petty thief, the Municipal Archives maps, architectural plans and photos can give your family a sense of what their streets and roads looked like when your ancestors walked them.  Check out our Flickr Albums and Featured Maps and Plans.
All of these records and many more listed on our Genealogical Sources web-page are available at the Municipal Archives. Contact  archives@halifax.ca or 902-490-4643.  You may have ancestors here waiting to be discovered.
Learn more about what the Halifax Municipal Archives can offer in this blog post.