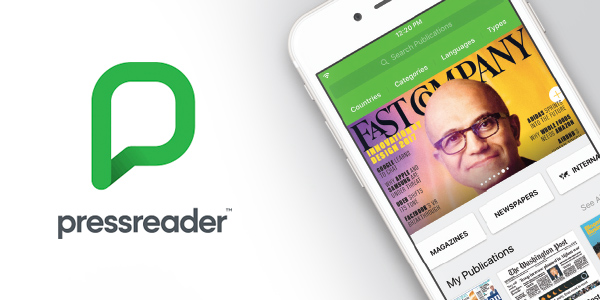 PressReader, opens a new window is a place for you to find, read about, and share what's happening in the world. By accessing PressReader, you can discover the news that matters to you.
News of the world
PressReader provides access to full content newspapers and magazines from over 120 countries in more than 60 languages and is available on your computer, tablet, or mobile device.
Everything from international to local publishers is kept up-to-date, so you'll never be a day behind.
Find the news that matters to you
With so many publications to choose from, PressReader makes it easy to see the news that interests you.
Content on PressReader is organized by subject type. So, whether you're looking for music, sports, business, travel, technology, or food and drink, you will find something interesting that matters to you.
Once you set your own list of topics and subjects, the home feed will have an endless list of content you're bound to enjoy.
How to: Access PressReader
Update: March 31, 2020: You can now access PressReader from home!
Please note: When accessing from home, Press Reader requires you to enter your library card number and PIN every 30 days to continue access. You will not lose access or account preferences when this happens.
By direct link
Visit www.pressreader.com
Via our E-Library
Visit our homepage at www.halifaxpubliclibraries.ca.
Click on the E-Library tab on the homepage. 
Select View more... under Resources.
Click A-Z resources.
On your mobile device
Carry news in your pocket with the PressReader app. To begin, download the PressReader app from the Google Play store, opens a new window or the App Store, opens a new window.
Just like the website, the app allows you to search for a specific publication, or you can browse publications from around the world according to country, category, language, or type. Once you've found something you're interested in reading, tap the publication to get started.
Extra help: Watch our how-to tutorial on Niche Academy
---
Get started with Press Reader today and stay up to date with what's happening in the world.