Written and photographed by Michael, staff member, Halifax Central Library; in partnership with Marketing & Communications
Last updated, June 18, 2021
The Floof Family: A brief history
Central Library has been a nesting ground for the last five years to a family of seabirds. Lil Floof and her descendants have become a favourite feature of our @hfxpublib Instagram account, opens a new window, with many Haligonians following the family tree and all its branches.
Since 2017, we have watched four hatchlings turn our rooftop into their home. As we are located in the Maritimes, we are no strangers to seagulls. The mix of nature in the urban city can be difficult for some, but in the case of these animals, they are thriving. During my observation of these creatures, I have learned a few things about seagulls, well, Herring Gulls, to be correct.
I have learned that gulls can live to be 35 years old. I've learned that the difference between Herring Gulls and California Gulls is the colour of their legs. Herring Gulls will have pink legs, and California Gulls have yellow legs. I've learned that parents take turns sitting on the egg(s) when nesting.
It's amazing how these birds have given the Library a new form of learning. We can observe and then read about what we have seen, and always take away something new.
---
June 2021: A new generation of gulls 
Last year, Library staff and community members alike celebrated the return of Lil Floof's family and the hatching of three new baby seagulls: Edgar, Allen and Poe. This year, the Floof family is growing once again with the addition of two new seabirds! This means that in the five years that Central has hosted this floofy group, seven baby seagulls have called the Library their home. 
Are the parents around a lot?
Both parents usually spend a lot of time around the branch. From what I have seen and could understand, both parents remain together until it's time for the eggs to be laid. They look for food together and protect their territory by chasing away other birds that pose a potential threat. When the mother gull is egg-sitting; the father gull will go search for food or will remain in the area to provide protection. I cannot confirm this, but I think that both parents will take turns sitting on the eggs, with the mother doing the majority of the task. 
Note from the editor: On top of having two feathered parents to take care of them, our Library staff love keeping an eye on the Floof family. In particular, Mike, a Security Team staff member at Central Library, does an amazing job at watching over the babies and capturing plenty of sweet pictures for us to enjoy. Thank you, Mike!
Do the babies have names yet? 
As of June 16, the babies have officially been named! It's only fitting that Mike, their biggest fan and guardian, has chosen the names this year.
"I like to call the big one Jethro, or Jet for short," says Mike. "My grandmother used to call me Jethro—just like the one from Beverly Hillbillies. I was always the big kid growing up, ate a lot, and she would just call me that. As for the smaller bird, I was thinking of Mini or Min. The size difference is incredible and great, because it's easier to tell them apart."
Welcome to the family, Jethro and Mini!
A few favourite photos (2021)
---
June 2020: Edgar, Allan, and Poe
Floof's family has returned and graced our rooftop with three beautiful new chicks. A staff member in the branch noticed the little group on June 11. While the Central Library building is currently closed to the public, our feathered friends are enjoying some peace and quiet as they grow and explore.
We invited you, our community members, and Floof's #1 fans, to share your ideas for their names. Congratulations to whitneycant, who came up with the winning trio of names: Edgar, Allan, and Poe.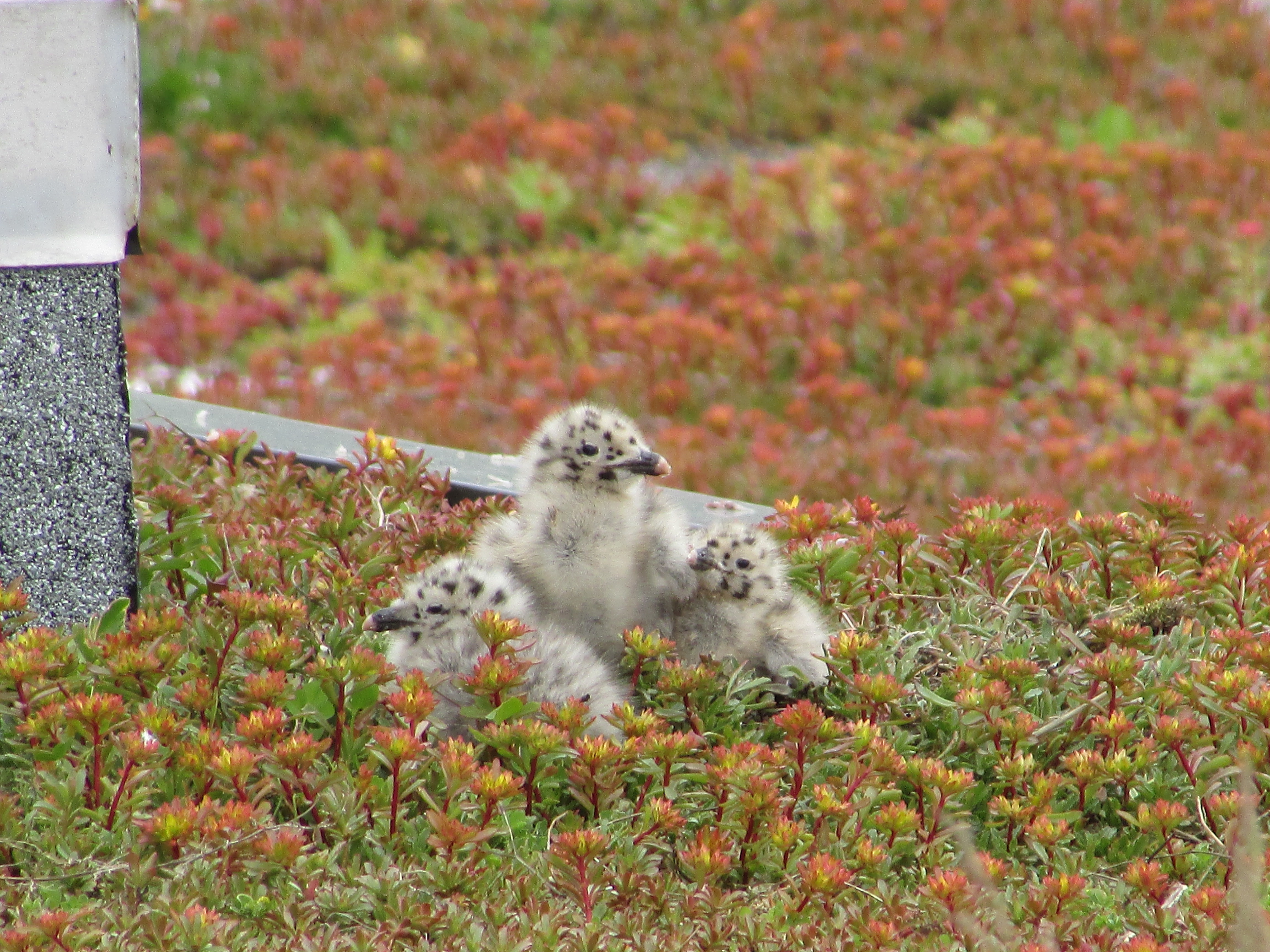 ---
When did Central staff first notice the original Lil Floof on the rooftop?
The original Lil Floof was first noticed by staff member, Donnie, during his morning routine. It was early June 2017, and Donnie was unsure of what he was seeing out there on the roof, but described it as a little ball of grey fluff. I was the second person to observe this ball of fluff and concluded this was a baby seagull. This was the final result of us hosting a mama seagull under our heat vent for the past few weeks. I went to tell another coworker about our new guest, and from there the enthusiasm began. The volley of baby photos that were emailed didn't subside until the end of summer.
Although we can't be certain, we like to believe that our birds are all related to Lil Floof—that she has returned to us again to nest, and spread the word to her family for years to come. 
How many chicks have hatched at Central Library? What are their names?
Our first chick hatched in 2017, opens a new window. Staff lovingly voted to name her Lori, AKA "Lil Floof." Lori was a suggestion that evolved out of the Latin term for seagull, Larum. Staff member Laura came up with the name Lil Floof by mixing "fluff" and "roof" together.
It wasn't until the next year when I learned that seagulls can have more than one chick. In 2018, Central Library was gifted with two chicks—Viola and Sebastian, named for characters from Shakespeare's Twelfth Night. In 2019, we were happy to see another chick. Gulliver (as per Gulliver's Travels) became our newest member of the family.
Seagulls can lay one to three eggs, and the eggs share a likeness to the chicks; grey and black dots. In 2019 we had three eggs to watch, but Gulliver was our only hatchling.
In June 2020, Floof's legacy grew yet again. We've welcomed three puffy, adorable chicks, Edgar, Allan, and Poe.
Do the gulls live there year-round, or just during certain months?
As we are in the Maritimes, it's common to see seagulls all year long. However, our nesting period has been observed to start as early as mid-May and go until mid-June. From June until mid-August we can watch the chicks grow. The chicks change their appearance during the 8 weeks they are with us. The fluff sheds and the feathers start to appear.
Does Central staff do anything to help protect the birds?
We at Central Library believe it's for the best to let the birds care for themselves. However, we do help when it's needed.
In August 2017, as Lil Floof was practicing flying, she accidentally crash-landed on our rooftop patio. Sure enough, this cleared the patio, as people were concerned for their safety and Floof's well-being. Floof tried her best to fly away, but she was stuck inside our glass patio panels. That's when staff members Susan and Joanne stepped in with hard hats and blankets. Parents are very protective of their young, and are known for swooping. Susan and Joanne were able to cover Floof in a blanket, pick her up and place her back on the other side of the patio. That has been the only time we have helped the birds directly. Other than that, we give them the space they need to flourish.
What can the birds be seen doing on the rooftop? 
What makes summertime such a joyous occurrence is that we get to watch these birds grow up. We get to watch the parents build a nest and remain in a single place until the egg(s) hatch. We get to see the early stages of walking and fumbling. When the chicks are running around the rooftop, it's a sight that will make a person say "awww." We get to watch them play with loose feathers, fallen leaves, and pesky insects. We have seen a mother regurgitate a whole fish to feed her twins. And at times, we've watched Mom chase away other birds or make calls for other seagulls to assist with the chasing.
It's quite the spectacle when the young ones start to cast off their fluffiness to stretch their feather wings. Watching them as they jump and flap their wings repeatedly brings excitement, and some feelings of trepidation as they are learning to fly from a rooftop. Each year we get to watch the start and growth of new life.
Community members and Library users have shown interest in the seagulls. Some of our regular visitors will ask about their well-being or take the time to visit them. People have suggested names—with Steven Seagull being a common choice. When children visit the Library, we try to add the birds to the tour. When going over the story of the seagulls, guests will often share stories of animals they have befriended. The birds have become somewhat of a mascot for us at Central. 
We do warn community members to beware, as seagulls will swoop at people if they get too close to the young ones. 
What is Gulliver's current status? 
Our 2019 addition to our Seabird family, Gulliver, flew the nest around the second/third week of August 2019.  But, we have no doubt that he will visit us again, perhaps even returning with new family members for our flock!
As the seasons change we are always thinking and hoping that when spring arrives it brings us back Lil Floof's descendants. We embrace that the Library is a place for everybody regardless of having arms or wings. As the city grows and changes, I want to say LET'S SEE MORE GREEN ROOFS! We hope to see more little floofers around in the future.