Are you the next Robert Munsch or Judy Bloom? Get your writing juices flowing with prompts from our Children's Services team. But first, follow along below for our step-by-step guide to making your very own journal with stuff you probably already have at home. (Click to download guide as PDF). If you want to write but don't want to get crafty, print off our handy journal template.
Homemade Journal
Step 1: Gather supplies
The basic supplies you'll need to complete this project are:
paper (colour, plain, or both)
some type of twine or thread for fastening your pages
a hole punch
colouring materials
a pair of scissors.
Optional supplies
If you have them, gather decorations for your journal like stickers, buttons, bits of ribbon, and a glue gun or glue stick. 
Step 2: Prepare cover and pages
Choose a piece of paper for your cover. Heavier paper like construction paper or bristol board work best, but you can use whatever you have. Add as many sheets of paper as you'd like. If you want, you can trim your pages a bit to make them a little smaller than the cover.
Step 3: Fold 
Hold all the paper in place and fold it over in half. 
Line the edges up together to make a straight crease down the centre.
Step 4: Punch holes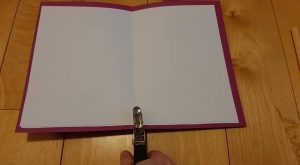 Use your hole punch to make a hole at the top and the bottom of your crease.
Tip: if you don't have a hole punch, you can use a sharpened pencil.
Step 5: Bind
Thread a piece of twine, ribbon, or sewing thread through the two holes. It's up to you how you bind your pages together, and you can be creative—maybe use different materials or tie big bows. You can even use a stapler on the crease.
Step 6: Decorate
Decorate your journal however you want—don't use any stickers or use ALL the stickers! Make it yours! We reused Summer Reading Club stickers for our journal, but you can use whatever you have at home.
Get writing (or drawing)!
Now that you have a fresh, new journal, it's time to enjoy it. Use your journal to write or draw whatever you feel. Write or draw as much or as little as you want. This is YOUR journal!
Writing prompts
Here are a few ideas to get you started:
What do I think the world needs more of?
What is one time I felt brave?
What is one new thing I've learned about myself?
How can I help someone I love right now?
What are three words that describe me today?
What is one memory that makes me happy?
What am I looking forward to?
How will I take care of myself?
Let us know in the comments how you use your journal. Parents: check out this article on how journaling benefits your child., opens a new window