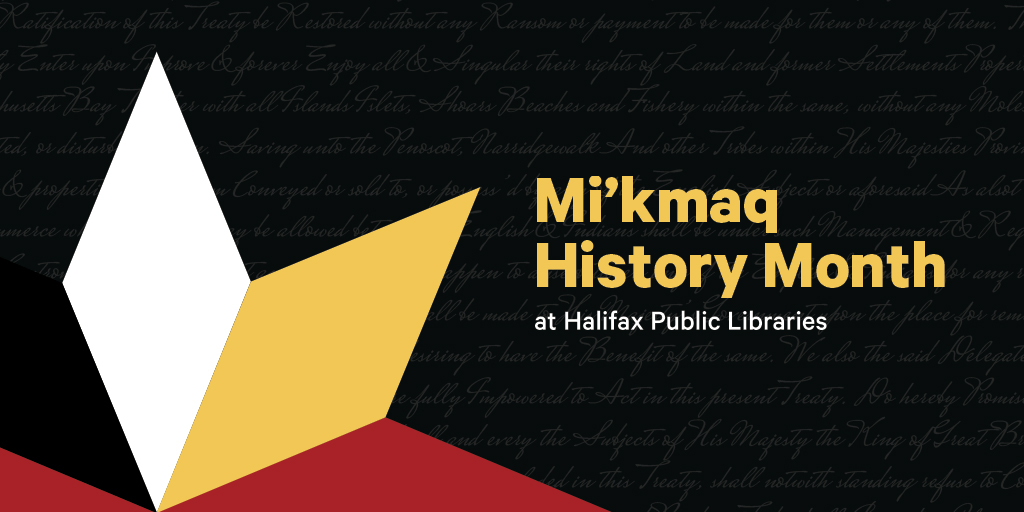 This virtual collection was created in partnership by the Mi'kmaq History Month Committee, Mi'kmaw Native Friendship Centre, Halifax Regional Municipality, Halifax Public Libraries, and community contributors.
This year marks the 27th year Anniversary of Mi'kmaq History Month. In 1993, Premier John Savage and Mi'kmaw Grand Chief Ben Sylliboy declared October as the official month to recognize and celebrate Mi'kmaw culture and heritage. 
We hope you enjoy the assortment of videos that celebrate the rich cultural traditions and history of the Mi'kmaw.
Jump to topic:
---
Mi'kmaq History Month Poster Design and Reveal
Inspired by Mi'kmaq stories and folklore, artist and illustrator Gerald Gloade walks you through his design process in creating the official, annual Mi'kmaq History Month posters with his team. In this video, he shares the the themes, imagery and information the Mi'kmaq History Month team has incorporated into their poster for 2020.
Video by Filet Production Services
---
Official Mi'kmaq History Month 2020 Poster
Sqaliaqnn Tel-nenmumkl aqq Tel-we'wmumkl/Plant Knowledge and Use
As Mi'kmaq, we have always recognized the important role that plants play in our culture and livelihood. From harvesting plants for nourishment and healing, to the gathering of plants to make art and for use in ceremony, plants are and have always been, an essential resource for the Mi'kmaq.
This year's poster draws on this knowledge and highlights the significance of plants, not just as a source of food but as an integral part of Netukulimk – our way of life.
Learn more about the plants included on the poster with these videos:
Posters are available in Mi'kmaw, English and French, here on the Mi'kmaq History Month Website, opens a new window.
---
Water is Life
Mi'kmaq elder Doreen Bernard speaks of the importance of water as nourishment, protection, and life for all.
---
Judy Bernard Googoo - Mi'kmaq Community Gardener
Judy's efforts at building a garden in Wagmatacook to provide healthier food for her community echo the Mi'kmaq tradition of Netukulimk and are a source of comfort, tradition, and nutrition for those who choose to share in the bounty.
---
Ursula Johnson: Mi'kmaw Hieroglyphs
Ursula Johnson, Cultural Interpreter at Kejimkujik National Park, finds a deeper truth in the written language of her people, the Mi'kmaq people, that was taught to her by her great-grandfather.
---
Todd and Melissa Labrador - Mi'kmaw Petroglyphs
Todd and Melissa Labrador, father and daughter duo, reflect on their connection to the land as they carry on the tradition of learning from the messages left by their ancestors.
---
Kisitoq / Create
Charles Doucette from the community of Potlotek explains how Mi'kmaw art is constantly changing, and has adapted over the years.
Video by Filet Production Services Inc
---
Netukulmik / Way of life
Students learn about Netukulimk at Kejimkujik National Park.
Video by Filet Production Services
---
Mi'kmawey Debert Cultural Centre
Debert is a place where our ancestors lived more than 11,000 years ago, and a place where they still dwell today. At Debert, the spirit of our ancestors come alive; our pride in ourselves and our history is renewed and strengthened. 
The Mi'kmawey Debert Cultural Centre is a charitable, not-for-profit First Nations organization dedicated to sharing, protecting and exploring the stories and lives of our earliest ancestors. The Centre grew from an initial desire to protect the 11,000+-year-old ancestral sites in Debert, Nova Scotia. The future Centre will invite visitors into a landscape, not just a building, where they will connect and honour the past, present and future of Mi'kma'ki. Watch and hear about the vision, here, opens a new window.
---
Mi'kmaq Drum Performance: Stoney Bear Singers
Stoney Bear drum group from Eskasoni First Nation performers the Mi'kmaq Honour Song  and two other chants. The Mi'kmaq Honour Song was received in the sweat lodge by George Paul, a singer/songwriter from the Metepenagg First Nation (Red Bank), New Brunswick. Honour Song can be sung by one voice or with many around the big drum as in this video.
---
Ji'kmaqn / Chanting Stick
Watch James Simon from the community of Eskasoni make a traditional ji'kmaqn, a teaching passed down through generations within his family.
---
Keknu'tmuatl / Teach
Sheila Porter talks about the importance of educating youth on the Mi'kmaw culture and preserving the Mi'kmaw language. 
Video by Filet Production Services 
---
Kejimkuiik Cultural Landscape
Discover the ancient history of Nova Scotia's first people in the timeless landscape of Kejimkujik National Park and National Historic Site. Considered a cultural landscape, the land at Kejimkujik showcases the culture, lifestyle and beliefs of the Mi'kmaw who have inhabited this land for at least 10,000 years. 
---
Mi'kmaw Language Lesson
Mi'kmaw language instructor Curtis Michael, of Sipekne'katik First Nation in Nova Scotia, takes us through a few lessons on the language of the Mi'kmaq.
---
Mi'kmaq Luskinikn (Bannock)
This video demonstrates how to make baked and fried Luskinikn (pronounced loo-skin-e-gen) which is an East Coast version of bannock. It is a rustic no yeast quick bread. The pan fried version is known as Four Cents. Its nickname, Four Cents, comes from how cheap it is to make. The baked version of this bread is referred to as Luskinikn or Luski for short.
---
Contemporary Mi'kmaq Music
Eternal Glory is a song written and performed by Darren Stevens of Eskasoni First Nation.
---
Fiddle Music by Morgan Toney
Morgan Toney is an up-and-coming Mi'kmaw fiddler from We'koma'q First Nation. He is making his Celtic Colours International Festival debut this year on October 9, 2020. Morgan will be playing with Ashley MacIsaac and many more. Enjoy this short collection of his fiddle playing.
---
Amalkat / Dance
Listen to Icysis (Icy) Toney talk about her passion for Mi'kmaw dancing and the importance of Mi'kmaq History Month.
Video production by Filet Production Services
---
Cultural Performance: Drumming and Dancing
Join Cultural Teacher, Garrett Gloade, as he teaches us about the various dance styles of the Mi'kmaw. Iron Tide, Patience Sylliboy and Tehya Milliea are featured in these videos.