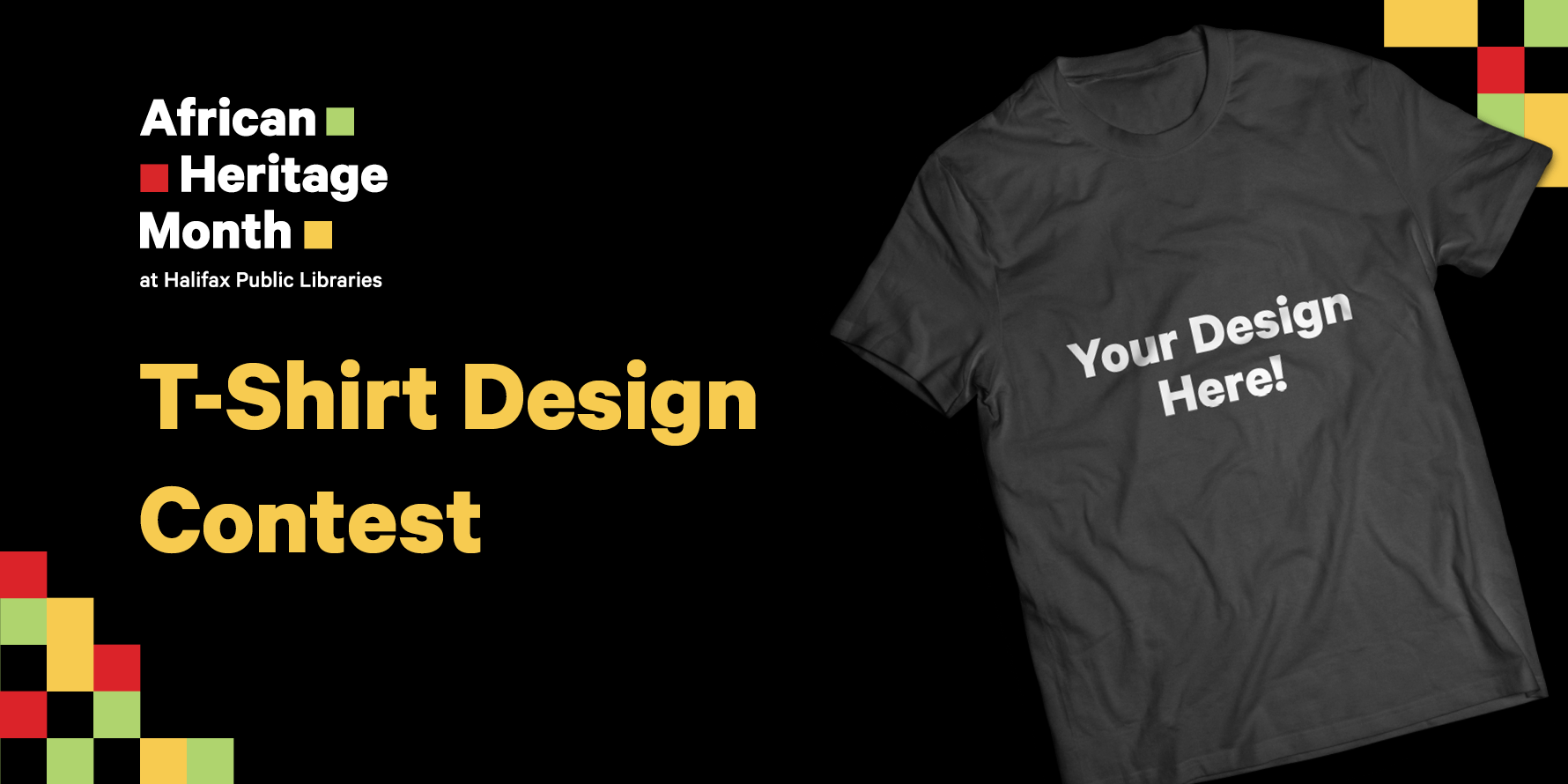 *CONTEST CLOSED *
---
In honour of the 40th anniversary of African Heritage Month at Halifax Public Libraries in partnership with the Black History Month Association, we are inviting submissions for our 2024 African Heritage Month t-shirt design contest.
About African Heritage Month and Celebrating African Heritage activities at Halifax Public Libraries
Every year for African Heritage Month (February), and continuing through the months beyond, the Library and its community partners develop programming honouring the cultural significance and histories of Halifax's Black/African Nova Scotian communities. The resulting Library programs and resources provide forums to openly discuss and debate important issues, reflect on the past, build for the future, and highlight and celebrate traditions. A large portion of this annual programming is generously supported by funding from TD.
Marking 40 years in style
The commemorative 40th anniversary t-shirt will aspire to represent the many years of creativity, innovation, and connection in Halifax honouring African Nova Scotian heritage and culture.
Looking for inspiration? You can explore some of the history via the Library's African Heritage Month portal at ahm.halifaxpubliclibraries.ca

, opens a new window

.  
The winning t-shirt design will be worn by Library staff, community partners, and awarded as prizes throughout February and March.
 A sample of t-shirt designs from recent years can be seen below for inspiration.
Details
Interested individuals can download the attached application form below and submit their design to the Library as outlined by November 30, 2023 at 11:59pm.
Full guidelines and submission requirements are included in the application form, including t-shirt template specifications and measurements, guidance for submitting original digital artwork or hard-copy files, and an artist statement prompt.
The Library's African Heritage Month Planning Committee will vote and determine the winning design, which will be announced in mid-December and go into production for the 2024 celebration.
The artist of the winning design will be featured in a short story on Halifax Public Libraries' website, and in collaboration with the artist, elements of the design may also be used in additional 2024 Celebrating African Heritage & Culture at Halifax Public Libraries creative.
We invite you to share your unique vision and be part of something truly special.
Contest Rules
The contest is open to Black/African Nova Scotian residents of Halifax Regional Municipality. There is no minimum age requirement.
Individual artists can participate, as well as collaborative groups. Any artist or artist group can submit only one (1) design. The design must be designed for placement on a black cotton t-shirt, and the artwork must use the Pan-African Flag colours: red, green, and yellow, with an option to introduce white. (Maximum of four colours total from this selection only.) The design must take into account the available templated space and logos placement as detailed in the application form.
Applications close on Thursday, November 30th at 11:59pm.
The design must be your own work—an original piece designed specifically for this celebration. Works generated by Artificial Intelligence (AI) are not permitted.
The Library's African Heritage Month Planning Committee will vote to determine the winning design.
The winning artist or artist group will be notified in mid-December 2023. The artist / artist group must provide final files to Halifax Public Libraries within one (1) week of notification, or the contest award will move on to the next candidate. The artist/artist group may be called upon for collaborative design purposes and artist interview features, within reason, throughout December 2023 and January 2024.
Halifax Public Libraries' Contest Ineligibility Policy
Consent
By submitting your design, you give Halifax Public Libraries and its partners non-exclusive permission to use content of and/or made by the participant for digital or print publications. You understand that this includes the 2024 t-shirt design and production, and may also include, but is not limited to, social media posts, websites, newsletters, advertisements, posters and pamphlets. You also understand that on occasion, Library photos, video, audio, or publications may be shared with media outlets and community partners for use in promotions of Library events, initiatives, and stories. You certify that no other person's permission is needed to authorize the use of said images or content. You agree that Halifax Public Libraries cannot be held liable for images or content used with your consent. ​
---
Download the Application Form