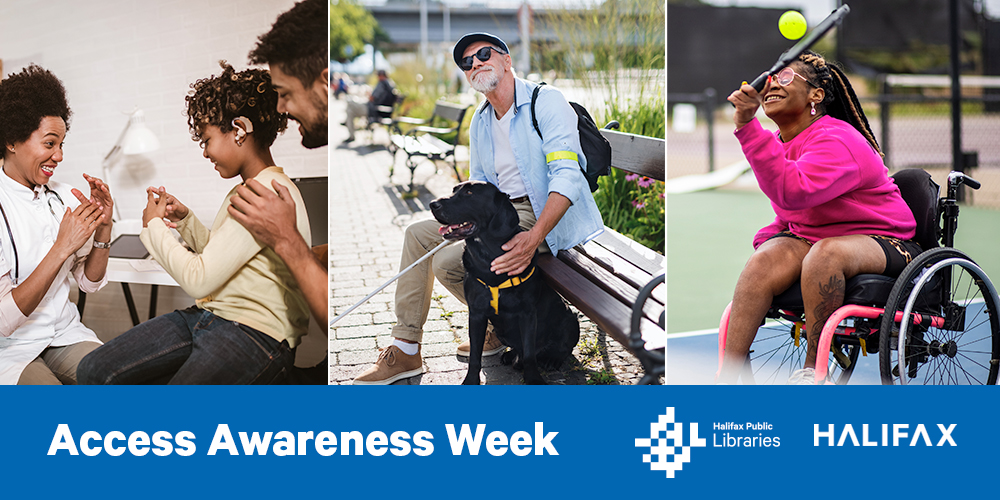 Proudly created in partnership with Halifax Regional Municipality, opens a new window and community partners
Since 1987, following Rick Hansen's Man in Motion tour, the Nova Scotia League for Equal Opportunities (the League), through the Partnership for Access Awareness Nova Scotia (PAANS), has been leading Access Awareness Week (AAW) in Nova Scotia. AAW began and remains a grassroots community initiative that has grown and evolved through the dedication and commitment of organizations and local government.
This year, due to COVID-19 safety restrictions, we are once again celebrating virtually. We invite you to explore this page and our Accessibility Portal for event information, useful resources, videos, and reading lists.
Jump to topic:
---
What is Access Awareness Week?
Issues of ability and inclusion are important all year round. However, Access Awareness Week is an opportunity that allows Nova Scotians to really promote these issues to audiences from all walks of life. Through press conferences, forums, concerts, lectures, and community events, we are able to engage the broader community on issues that are not often considered.
This year, Access Awareness Week is exploring how the pandemic has impacted the community, and underscores the ways in which COVID-19 has further exacerbated barriers to accessibility for persons with disabilities. 
Barriers to inclusion are as much about attitude as physical structure. While changing a by-law or policy or enforcing legislation may technically remove barriers, it is by fostering attitudes of acceptance and responsibility that the real obstacles are overcome.
---

Remarks: The Honourable Kelly Regan, Deputy Premier
Transcript
Hi, I'm Kelly Regan, Minister of Community Services for Nova Scotia. I'm pleased to be part of Provincial Access Awareness Week 2021. To no one's surprise, it's a virtual celebration this year.
Provincial Access Awareness Week gives us the opportunity to engage Nova Scotians on issues of access and inclusion in our communities, organizations, and workplaces. It's also a celebration of the work that has been and still is happening right across the province to improve equity, remove barriers, and increase accessibility. It's also a time to highlight the potential of things to come. Our Provincial Access Awareness Week is part of a cross-country celebration, National AccessAbility Awareness Week, and I want to commend the Partnership for Access Awareness Nova Scotia Committee for organizing the events today and throughout the week.
This year's Provincial theme is: "Where We Were, Where We Are Now, Where We Want to Be." It highlights that while progress has been made and we've seen many positive changes in our province, there's still more work to be done. It's also a time to recognize and celebrate the individuals, communities, workplaces, and organizations that are working to prevent and dismantle barriers to accessibility and inclusion.
So, I'd like to recognize the Accessibility Directorate, and the Partnership for Access Awareness Nova Scotia, for the commitment to working with the government, community, and persons with disabilities to help build a stronger Nova Scotia. That work is demonstrated by the province's accessibility strategy, Access By Design 2030. It outlines how we will achieve an accessible province by 2030. Simply put, we get there by providing persons with disabilities with equitable access to programs, services, information and infrastructure. Finally, I'd like to share our thanks with the organizing committee for coordinating this year's online event.
I wish everyone the very best for another successful Provincial Access Awareness Week. Thank you.
---

Remarks: The Honourable Delorey,  Minister, Department of Justice
Transcript
I'd like to begin today by acknowledging that we are in Mi'kma'ki, the traditional territory of the Mi'kmaq people. As the minister responsible for Nova Scotia's Accessibility Act, I'm really pleased to speak to the importance of Nova Scotia's Access Awareness Week: Where We Were, Where We Are, and Where We Want to Be.
Almost one in three Nova Scotians identify as a person with a disability, and this number is expected to grow as our population continues to age. That's why providing fair and equitable access for all Nova Scotians is one of government's highest priorities. Because accessibility isn't just something that is nice to have; it's a human right. Access needs to include everyone in everyday life. This means meeting people where they are and working collaboratively with persons with disabilities, municipalities, businesses, postsecondary institutions, and others to understand accessibility issues, and to prevent and remove barriers.
The principles of equitable access, collaboration, and innovation guide our work on accessibility. The Department of Justice's Accessibility Directorate continuously engages with persons with disabilities, gaining insight into this important work, and ensuring that the policies that we draft, and the programs and services that we deliver, are accessible to all Nova Scotians.
Together with our partners, we've made great strides in the implementation of the Access By Design 2030 Strategy and the Government of Nova Scotia's Accessibility Plan, which are guiding Nova Scotia toward our goal of being an accessible province by 2030. One of the key priorities of the Accessibility Act is the development of accessibility standards. The Act requires us to develop six standards over the next ten years, and we're well on our way to developing the first two standard areas in the Built Environment and Education.
Work is advancing on the Compliance and Enforcement Framework as well, where we're using a collaborative approach involving persons with disabilities, municipalities, businesses, non-for-profits, and government departments.
And the development of a provincial public awareness campaign to increase Nova Scotians' understanding of accessibility, the rights of persons with disabilities, and the barriers faced by persons with disabilities will be launched in the coming months. This work has been especially important as we adapt to life during a pandemic; while the impacts of COVID-19 have been felt by everyone across the province, we do recognize the additional challenges created for persons with disabilities.
So I want to thank the Nova Scotia League for Equal Opportunities committee, and the Partnership for Access Awareness Nova Scotia, for inviting me to participate in this initiative. Congratulations to all on the incredible work you've done to ensure that accessibility gets the awareness that it rightfully deserves. Together, we will lead this change and culture shift needed to create a more equitable and barrier-free province. Together, we can make sure that Nova Scotians with disabilities can participate fully in all aspects of our beautiful province, and our capacity to participate is not limited by barriers. Thank you.
---

Proclamation, Mayor Mike Savage
Transcript
Hi, I'm Mayor Mike Savage, reading the proclamation for Access Awareness Week, May the 30th to June the 5th, 2021.
Whereas the week of May the 30th to June the 5th, 2021 is recognized as Access Awareness Week;
Where Access Awareness Week aims to celebrate achievements made both by and for persons with disabilities in the areas of accessibility, transportation, housing, employment, recreation, education, and communication, and this is the 34th year that this public awareness initiatives has taken place here in Halifax;
Access Awareness Week promotes the inclusion of all Haligonians with disabilities as full citizens within our communities, and through public awareness, community partnerships, and education, this campaign aims to foster an environment of equal participation for persons with disabilities in Halifax;
Therefore, be it resolved that I, Mayor Mike Savage, on behalf of Halifax Regional Council, do hereby proclaim May 30th to June 5th, 2021 as Access Awareness Week in the Halifax Regional Municipality.
Dated in Halifax, Nova Scotia
Mike Savage, Mayor
---

Flag Raising
On Monday, May 31, 2021, the week will be heralded in with the province's first concerted provincial flag raising ceremony led by HRM's Mayor, Mike Savage. At the ceremony, Mayor Savage will deliver the official Halifax Regional Municipal Proclamation of Access Awareness Week. Due to COVID-19 safety restrictions, there will be no formal gathering. You will be able to see the flag flying in Parade Square following the raising.
---
Accessibility Panel Discussion: COVID-19
COVID-19 has had a global impact on everyone, and the disabilities community in Nova Scotia is no exception.
We invite you to join us virtually on June 2 from 11:00 AM-2:00 PM, when we will have a discussion in first voice based on personal experiences with COVID-19.
Our panelists represent a variety of perspectives in the disabilities community, and we have asked each person to think about their experiences over the past 16 months. We want to recognize the challenges and focus on solutions that worked so we can continue to enhance and support the journey faced by the disabilities community. 
Meet the panelists and participants:
Juanna Ricketts, CMHA Halifax-Dartmouth (Panelist)

Hello, My name is Juanna Ricketts and I currently reside in Halifax, NS. Prior to, I have lived and had a professional life in Edmonton, Alberta; BramptonMississauga, Ontario; and Jamaica, West Indies.
In 2014 I suffered a meltdown, not able to take care of myself, emotionally, physically, financially, and mentally, I was moved to live with my mom, and various treatments for my mental health began. I, for the for time in my life visited soup kitchens, food banks, and clothing banks in order to survive. There were days I didn't have enough.
I had to have an emergency hysterectomy, spent almost 5 days in the hospital, and couldn't afford to purchase any new items for the hospital stay; and Income Assistance didn't provide. But, through it all I became a member of the CMHA Halifax Dartmouth, and I serve on the Board of Directors. I am an Ambassador for the Speaking Engagement for the United Way, I serve as patient/family partner for MSSU, BRIC NS, SPIDER, CMA, CMAJ, NCPLE, NSA. My youngest sister had stage 4 cancer, and she died, so I have served on the End of Life Care. My oldest sister currently has stage 3 cancer, and I am also the primary caregiver for my mom, who fell a year ago and broke her hip. She also suffers from moderate Alzheimers.
I have seen various stages in healthcare and personal care, and my voice and experience can help to improve our system. We have great systems in place—they need to be tweaked and modified to help serve the patients better, and have much better patient outcomes, and
to have the best patient care. I'm looking forward to sharing my ideas, suggestions, and lived experiences while learning and improving myself with training, courses, hearing other patient partner lived experiences and with professionals.
It's OK, not to be OK.
Laura Baine, AMI (Panelist)
Born and raised in Kjipuktuk/Halifax, Laura is a reporter for Accessible Media Inc. In this role, she travels around Atlantic Canada and beyond, helping people with disabilities share their stories with a national audience. She also does frequent segment producing, and recently co-produced the documentary White Cane Journeys. Laura is a CNIB NS board member, past CCB Access and Awareness Chapter co-chair, and an ambassador for the Rick Hansen Foundation. This fall, Laura will be pursuing her Master's of Social Work at Dalhousie University. She is always looking for her next adventure—whether it's rappelling down Halifax's tallest building, getting out on her tandem bike, or trying her hand at professional theatre.
Andrew Jantzen, Tetra (Panelist)
Andrew is an active member of the disability community, advocating for accessibility for both himself and others. They live with a genetic connective tissue condition called Ehlers-Danlos syndrome which effects every joint in the body and has caused deteriorating mobility and chronic pain, requiring the use of a power wheelchair. Andrew's advocacy covers such necessities as recreation, medical care, housing, assistive devices, homecare and other human supports for people with disabilities. During the pandemic, the challenges he has faced in these areas has shifted and so has the advocacy. They have a background in physics, electronic engineering, health research, and community development and bring their expertise and experience as a disabled and queer, community minded technology enthusiast, to all aspects of their life.
Andrew Jantzen also serves as the Atlantic Regional Coordinator for the Tetra Society of North America. Tetra partners individuals living with disability with creative volunteers to dream, design, and build unique assistive devices to help better participate in any aspect of life, recreation, community, work, or family.
Vicky Levack, NSLEO (Panelist)
Victoria Levack is a resident of a long-term care facility in Halifax despite only being 30 years old. She did this because through the Nova Scotia government there were no other programs to meet her unique needs. The pandemic has, of course, shown that long-term care facilities have a long way to go when it comes to Improving the quality of life for the residents. Vicky has spent the last nine years trying to improve the quality of life through her relentless activism and various media appearances. She is also Chair of NSLEO and Vice President of the NS chapter of the CP Network.
Fun fact: Vicky can remember the lyrics to most songs after only hearing them once.
MJ Crawford, TEAM Work Cooperative (Panelist)
Marie-Josee Crawford, MJ for short, B.A, CCDP, originally from Edmundston, New Brunswick and settled in Dartmouth, NS for over 25 years. She was born deaf and overcome a lot of obstacles through her life. For 10 years, she works as a case manager/career practitioner currently with TEAM Work Cooperative, one of NS Works Centre. MJ passionately works with most deaf/hard of hearing clients on assessing for employment services, skills development and accommodation funding including providing presentations to employers and organizations on Deaf Culture Awareness. When people seek for guidance or resources on deaf/hearing of hearing, MJ provides support/consultant to break down barriers and find opportunities for deaf/hard of hearing people.
MJ attended high school without ASL interpreters and managed to graduate. Gallaudet University, a Deaf university in Washington, DC to gain knowledge in deaf culture and sign language before transferring to SMU to obtain a B.A. in Sociology. She received a Career Development Practitioner certificate through Nova Scotia Career Development Association and received an Excellence Career Development Award in 2019. She is currently studying on Case Manager Specialist course. Prior to TEAM Work, MJ worked in small-options homes, ASPEA, and Deaf Advocacy Association of Nova Scotia with people with disabilities ranging from children to adults. Besides her dayshift job, she has been a volunteer for numerous organizations since attending university. Presently, she volunteers with Canada Deaf Women Conference which will take place in Moncton, NB in 2023 focusing on fundraising and as a workshop coordinator. She sits on the board with Deaf Literacy Nova Scotia providing guidance and leadership. Her mother, collaborate with MJ and published a book titled "MJ – Beyond the Silent World of the Deaf". In her spare time, she enjoys travelling, plays golf, downhill skiing, and socializing with family/friends.
The Honourable Kevin S. Murphy, Speaker of the House, Government of Nova Scotia (Moderator)
The Honourable Kevin S. Murphy was first elected to the Nova Scotia House of Assembly as MLA for Eastern Shore on October 8, 2013 and was re-elected in 2017. Shortly thereafter on October 28, 2013 Kevin was elected the Speaker of the Nova Scotia House of Assembly.
Kevin is the first Speaker of the House to hail from the riding of the Eastern Shore, and embraces the responsibilities this role requires of him. He is the first Speaker in any Canadian jurisdiction to have a permanent long-term physical disability. Kevin is a spinal cord injured quadriplegic as a result of a hockey accident in 1985.
Dr. Nancy Hansen, Ph.D., University of Manitoba (Keynote Speaker)
Dr. Nancy Hansen, Ph.D. is an Associate Professor and Director of the Interdisciplinary Master's Program in Disability Studies at the University of Manitoba. Nancy obtained a Ph..D (Human Geography) from the University of Glasgow. Her research interests in disability studies are varied including; disability in spaces of culture education, literacy, social policy, employment healthcare access and experiences of disabled and LGBTQ communities in post-conflict areas.
Nancy is a former member of the Member CAUT Working Group Academics with Disabilities and Equity Committee, and former President and founding member of the Canadian Disability Studies Association. She has received an Einstein research fellowship examining Disability Studies and the Legacy of Nazi Eugenics; and the ICUF Sprott Asset Management Scholarship examining disability history. Nancy has assisted with the development of Disability Studies academic programs nationally and internationally, and she has lectured on numerous occasions at University of Winnipeg Global College Summer Institute. She was chosen as the 2019 Stapleford lecturer, and has recently received a Rotary Paul Harris Fellowship. Nancy is co-editor of the Routledge History of Disability Untold Stories: A Canadian Disability History Reader. In addition, Nancy has written numerous book chapters and contributed to various international academic journals.
---
PAANS Scholarships and Mel Hebb Awards
On Friday, June 4 from 11:00 AM to 1:00 PM, the Scholarships for Persons with Disabilities and the Mel Hebb Hourglass Action Awards will be presented during a virtual ceremony.
This year, 13 students from across the province will receive scholarships to begin or complete their post-secondary education or training. The Mel Hebb Hourglass Action Awards will give recognition to individuals, public servants, and the private sector in their unwavering work on behalf of persons with disabilities.
---
Community events
Join Accessible Media Inc. Thursday, June 3, from 1:00-7:30 PM, for the AMI Connect virtual event. This free, entertaining and informative event will introduce you to the stars of AMI's programs, including NOW with Dave Brown, Kelly and Company, AMI This Week, Level Playing Field, Eyes for the Job, Kitchen Confession with Mary Mammoliti and more. Register and explore more here on their website.
---
reachAbility is hosting a full series of daily virtual conversations featuring disability advocates, changemakers, and influencers from Nova Scotia and beyond. Find the most up-to-date information and event links here on their website. 
---
The BAAFF Team is adapting their programming but always offers up exciting events and podcasts. Discover content here on their website, opens a new window.
---
Community partners
Canadian Mental Health Association Halifax-Dartmouth Branch (CMHA)
CMHA's Halifax-Dartmouth Branch, opens a new window provides adults in the community living with mental illness access to programs that offer vital social support connections. Our programming fosters social inclusion, diversity, access to activities and a sense of belonging with others who share similar lived experience.
Many of those who struggle with mental health issues experience severe social exclusion because of a limited, if any, social network. The absence of that kind of connection and support increases the risk of isolation, and our programs provide a safe place for people to interact.
CMHA strives "to create an environment of hope, to reduce stigma, and to promote mental health for all", and our social programs embody the core values of integrity, empathy, equality, diversity, transparency and collaboration.
---
Canadian National Institute for the Blind (CNIB)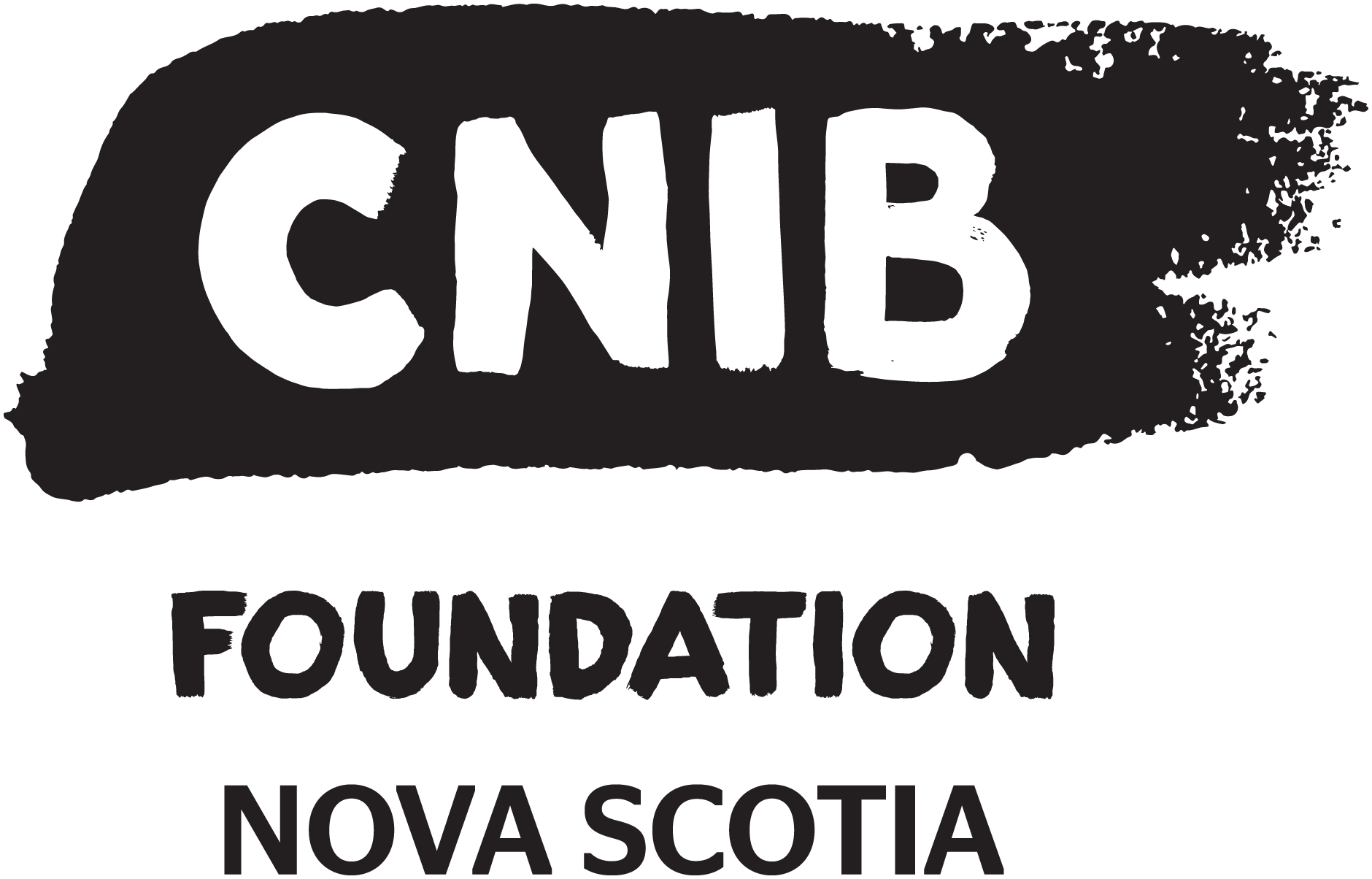 The Canadian National Institute for the Blind, opens a new window was created by a group of volunteers as a response to the influx of people with sight loss returning from the First World War and those who suffered devastating eye injuries as the result of the Halifax Explosion in 1917.
Celebrating 100 years in 2018, CNIB is a non-profit organization driven to change what it is to be blind. We deliver innovative programs that empower people impacted by blindness to live their dreams, and powerful advocacy to tear down barriers to inclusion. Our work is powered by a network of volunteers, donors and partners from coast to coast to coast.
---
Inclusion Nova Scotia
A provincial, family-based non-profit organization, Inclusion Nova Scotia, opens a new window works with and on behalf of individuals with intellectual disabilities and their families. We are dedicated to attaining full participation in community life, ending exclusion and discrimination on the basis of intellectual disability, promoting respect for diversity and advancing human rights to ensure equality for all Canadians.
Through our Job Seekers Database we help people with Intellectual Disabilities or on the Autism Spectrum who want to find jobs in the community. Our Outreach Coordinator will help you connect you to employers.
---
March of Dimes Canada
The vision of March of Dimes Canada, opens a new window is to create a society inclusive of people with physical disabilities. Its mission is to maximize the independence, personal empowerment and community participation of people with physical disabilities. 
---
Nova Scotia Accessibility Directorate
The province's Accessibility Directorate, opens a new window is responsible for administering the Accessibility Act and advancing disability issues within government.
Our vision for an Accessible Nova Scotia is one where individual difference is celebrated and valued, where persons with disabilities are supported to participate fully in their communities and one where we recognize that abilities vary, but our capacity to participate is not limited by barriers.
By working collaboratively with persons with disabilities, municipalities, businesses, post-secondary institutions and others to achieve the goal of an accessible Nova Scotia by 2030, we seek to achieve the following outcomes:
Nova Scotians are aware of the rights of persons with disabilities, understand the impact of barriers to participation, and take action to prevent and remove barriers.
Persons with disabilities in Nova Scotia have equitable access to:
Buildings and outdoor spaces in which Nova Scotians live, work, learn, and play
Inclusive public and post-secondary education
Employment
Information and communication
Goods and services
Transportation within and between communities
---
Nova Scotia League for Equal Opportunities (NS LEO)
Operating since 1979, NS LEO, opens a new window was formed in response to a growing awareness by persons with disabilities in Nova Scotia for the need of a cross-disability consumer and public education organization.  As Nova Scotia's only cross-disability policy research and public education organization comprised of individuals who have disabilities, the League acts as a conduit for information and a catalyst for change upon the issues that impact persons with disabilities by working collaboratively and across sectors to engage community partners, public and private sectors, and all levels of government to encourage, formulate, and propose workable solutions towards inclusion, accessibility, and diversity.
---
People First
Speaking For Ourselves! People First, opens a new window's mission is to support people who have been labelled with an intellectual disability, to speak for themselves, help each other, and make sure that what people who have been labeled with an intellectual disability have to say is heard.
Their vision is that all citizens live equally in the community. They practice this through:
Self-advocacy
Leadership development
Working for social change
Organizing local groups
Focusing on important issues: legal rights, community supports, closing institutions, human rights
---
Tetra Atlantic
The Tetra Society of North America, opens a new window (and Tetra Atlantic, opens a new window) creates custom assistive devices for people with disabilities where no commercial solution exists. Tetra volunteers work alongside people who need a device to build gizmos and hack existing equipment to offer unique solutions to accessibility barriers. We recruit people with a wide range of hands-on skills for designing and building devices, as well as outreach and engagement, to make this possible.