Craft by Agnes, staff member, Keshen Goodman Public Library.
"The earth laughs in flowers." - Ralph Waldo Emerson
Coffee Filter Flowers
A bouquet of flowers is almost certain to bring a smile! How about some roses made from coffee filters? These simple DIY flowers will bring some of the outside beauty indoors, without any need for watering.
Supplies
This craft can be made with simple items found around your house.
Coffee filters
Food colouring
Water
Water
Glue gun
Scissors
Green paint or floral tape
Skewers
If you don't have the supplies needed, this is a great craft for improvisation. Don't have floral tape and skewers? Use green paint and real twigs. No paint? A green marker will work.
It takes three coffee filters to make one rose, or two if you'd like a smaller rose. To make six roses you'll probably need 18 filters.
Step 1: Colour the Coffee Filters
Add two drops of food colouring to a couple of cups of water in a bowl and dip the filters in together. They look more realistic if there is some variation in the colour, and dipping eight or nine filters together ensures that the amount of colour will be different. Don't worry about getting the filters too wet, just make sure that they are the colour that you want.
Place the filters on a baking sheet to dry, or you can dry them more quickly in the oven at 200°F, which takes about thirty minutes.
Step 2: Trim and Roll the Coffee Filters
Once the coffee filters have dried, trim the edges to make 5 bumps and cut a circle out of the centre. These bumps will become the edges of your rose petals.
Roll the edges of the petals around a pencil or the handle of a small paintbrush, this will make the edges of your roses look more realistic.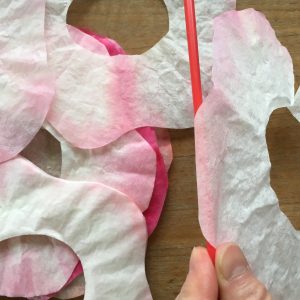 Step 3: Assemble
Glue the stem to the edge of the trimmed filter with the stem in the middle of the hole. Roll the first filter somewhat tightly around the stem. When rolling the next two filters, make them a little looser each time. Use a dot of glue as needed every few centimetres to keep the flower petals firmly in place.
Tip: Keep a bowl of cold water handy to cool your fingers if you get hot glue on them.
Once you have finished your rose, you can paint the stems or colour them with a marker to add even more realism.
Remember, imperfect is perfect!
Congratulations on making your own ever-lasting bouquet of roses!
---
Interested in making different kinds of flowers? You might also enjoy these:
Make a Paper Dahlia Flower, opens a new window
DIY Coffee Filter Flowers Step by Step Tutorial, opens a new window
How To…Make Your Own Paper Flowers, opens a new window