Craft by Sandra, staff member, Keshen Goodman Public Library
Canada Day is almost here.
Celebrate being Canadian with a maple leaf craft! You can use anything you'd like to create your leaf. We used old magazines, cut into strips. Try dried beans or lentils, sticks from your yard, flower petals, buttons or even leftover bits of yarn. It's easy and fun for the whole family! 
Kick-start your creativity by fashioning a maple leaf using materials found either inside or outside your home!
What you'll need:
A surface for your leaf: paper, cardboard, or a piece of old wood

A maple leaf template

Glue

Items to decorate your leaf
Step 1
To start, you'll need a surface for your leaf: paper, cardboard, a piece of old wood...let your imagination guide you. 
Go online to find a leaf template, or draw your own.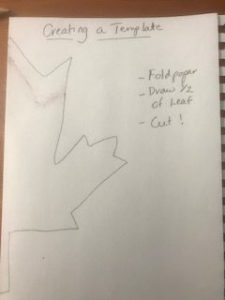 Step 2
Glue on items inside your maple leaf template. You can use strips of paper from magazines, finger paint, leaves, wrapping paper; the sky's the limit!
Step 3
You might also choose to paint a border around your maple leaf to make it look like a frame.
Once your craft is dry, you can hang it in your window proudly to cheer your neighbours or put it on your fridge to brighten your day each morning.
---
Share your maple leaf on social media using the hashtag #KickstartCreativityHfX. We can't wait to see what you create!
If you're looking for more Canada Day fun, check out this these books that celebrate some of the things that make Canada unique.
Happy Canada Day!​