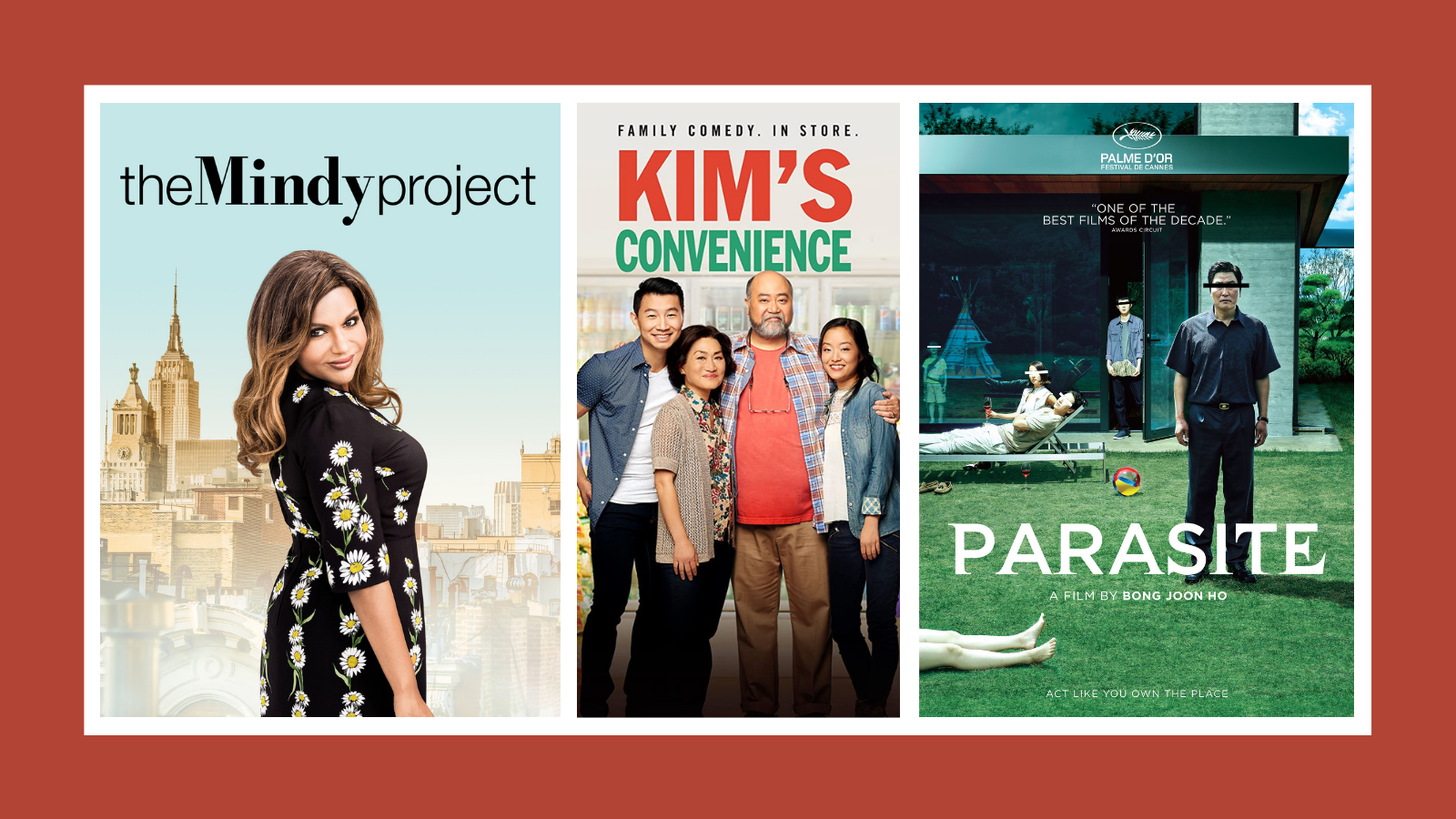 Written by Sue, staff member, Keshen Goodman Public Library
Laugh, enjoy, and immerse yourself in these wonderful films and television series. With actors and actresses of Asian descent and settings in many of Asia's beautiful countries, this list of movies and shows is sure to please. Borrow on DVD (and in some cases, Blu-Ray) from the Library today.
Among the Asian countries represented by the movies and shows on this list are Yemen, Saudi Arabia, Singapore, China, Thailand, and India. Mindy Kaling, Dev Patel, Awkwafina, and Michelle Yeoh are just a few of the talented actors and actresses featured. So sit back, explore, and enjoy a new-to-you film or television series. And, be sure to share your own recommendations in the comments below!
---
1. The Mindy Project

This fun sitcom created by Mindy Kaling features Mindy as an OBGYN in a small doctor's office. Hilarious antics from her and co-workers combined with her quasi-traditional Indian family make for a funny and heart-warming television series.
Borrow The Mindy Project on DVD: Seasons 1 through 5
2. Parasite
As one family schemes to become employed by a very wealthy family, Parasite explores greed, class discrimination, and the dynamics of rich and poor people in modern say South Korea. This critically acclaimed film was the first non-English language film to win the Best Picture award at the Oscars.
3. Late Night

Late Night is a wonderful exploration of women in the late night talk show field. Writer, producer, and star Mindy Kaling brings an honest, refreshing, and funny approach to the themes of diversity, immigration, women and men, and Emma Thompson is a gem as her overbearing female boss.
4. Crazy Rich Asians

Crazy Rich Asians  is a beautiful Cinderella story of a poor girl (Constance Wu) who meets a rich boy (Henry Golding) and flies to the lush city-state of Singapore to attend a wedding. The beautiful scenery and the sights and sounds of Singapore will captivate you, and don't forget, Crazy Rich Asians is also available in book format by Kevin Kwan.
5. The Second Best Marigold Hotel

The Second Best Exotic Marigold Hotel

Who wouldn't love a romp with British seniors, hoping to retire in luxury at what is supposed to be a rich, palatial hotel in India? Bill Nighy, Judi Dench and the wondrous Dev Patel of Slumdog Millionaire join the cast—need I say more?
6. Kim's Convenience

Borrow Kim's Convenience on DVD: Seasons 1-2
You'll fall in love with the lead character, Appa (Paul Sun-Hyung Lee), as he navigates all the ins and outs of Canadian culture, with a definite Korean slant.  Join him, Umma, Janet, and Jung as they laugh and cry over the many challenges of being an immigrant in the great city of Toronto.
7. The Hundred-foot Journey

Set in France, a new Indian restaurant opens up a hundred foot from a very elegant French one. Competition erupts between the two, while sparks fly between both families. Helen Mirren and Om Piri shine as the heads of their respective duelling restaurants.
8. Anna and the King

Jodi Foster brings to light the Kingdom of Siam with this adaptation of the King of Siam. Beautifully shot and well-acted, the true story of Anna Leonowens is a classic—about the governess that travelled to Siam (Thailand) and taught the children of the king. There are many renditions of Anna's story but none as outstanding as this version.  Anna herself settled in Halifax in her later years, after her time with the king. For those who want to know more, her biography—Anna Leonowens: A Life Beyond the King and I by Leslie Smith Dow—is also available.
9. Salmon Fishing in the Yemen

Emily Blunt and Ewan MacGregor travel to Yemen to satisfy the Sheik of Yemen's need to experience fly fishing. With such a feat to accomplish, the two try to navigate bringing a water-bound sport to a desert-bound land like Yemen. If you enjoyed the movie, you can also read the original book by Paul Torday.
10. Hero
This critically acclaimed martial arts extravaganza stars Jet Li as a fearless warrior who recounts to the first Emperor of China how he killed three assassins. The film is beautifully shot and features wondrously executed action scenes that will leave you spellbound.
11. The Farewell

A family takes their ailing grandmother back to China, under the guise of going to a wedding, in order to bid farewell to her. This bittersweet drama of love and family is a multi-award winning, dual language film. 
---
Share your own recommendations in the comments!
Celebrate Asian Heritage Month with Halifax Public Libraries through reading lists, online events, and blog posts.