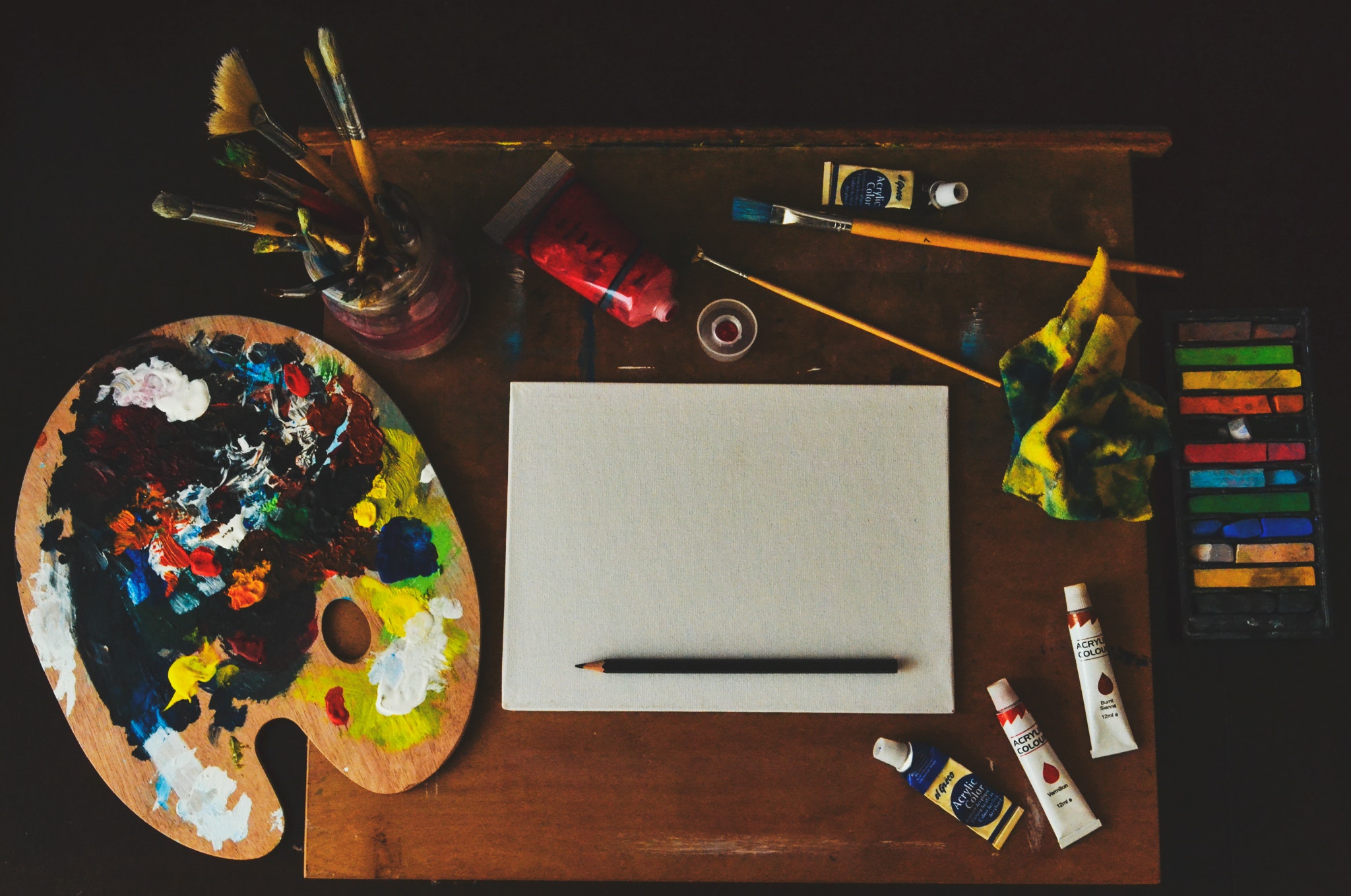 Written by Ella, Teen Volunteer
Halifax Public Libraries' Teen Blog is written by and for teens. Discover more posts here.
This summer, our Creative Doers volunteers created art to be displayed in our Libraries. In this series of blog posts, they present their artwork that will be featured in the teen areas at Halifax Central Library and Keshen Goodman Library until the end of November. Ella's pieces are at Central Library.
---
After writing a series of blogs this summer about revolutionary female artists Mary Cassatt, opens a new window, Hannah Höch, opens a new window, and Yayoi Kusama, opens a new window, I decided to create three art pieces each inspired by each of these artists.
1) Mary Cassatt: Canvas painting 
Mary Cassatt was a 19th century impressionist painter who overcame obstacles both at home and in society. She participated in the women's suffrage movement and expressed women's experiences and private spaces in her art. She also encouraged and cheered on young female artists.
In the era of male artists, her passion and feminism made me want to paint her.
I wondered if Cassatt lived today in the 21st century, where women's rights are recognized, what would she look like?
I thought she would still be a hard-working career artist drawing on her drawing pad, while listening to women musicians.
2) Yayoi Kusama: Digital Art 
"I love pumpkins because of their humorous form, warm feeling, and a human-like quality and form." 
This famous quote from Kusama is the reason why I decided to draw this art piece. I was drawn to what Kusama and pumpkins have in common. She is an artist who healed her pain through art. A pumpkin is ugly, but through Kusama's hand, it becomes beautiful. 
Art has the power of healing, change, and touches the heart of the person looking at it. I had this feeling when appreciating Kusama's fun and warm pumpkins. I also made my own pumpkin with that same feeling in mind.
On a flat black background, I created a three-dimensional shape of a pumpkin with dot patterns, which can be commonly found in Kusama's art. By adjusting the size of the dot pattern, it added a sense of volume and rhythm, and the contrast of black and yellow made the pattern stand out. 
I drew the yellow polka dots that resemble lights in the dark. I tried to make the ordinary become unique, ugly become beautiful, and non-mainstream become mainstream.
3) Hannah Höch: Collage
Through sophisticated satirical art towards politics, society, and culture, Hannah Höch was an inspirational artist who was loud in the days when women's voices were expected to be quiet.
Inspired by Höch's collages, I wanted to express that all women are beautiful and that there can be no prejudice in beauty. That true beauty is beyond our cultural understandings of race, age, region or era. I hoped to represent this idea in a collage by assembling different modern magazine images.
By putting the torn text in the background, I wanted to criticize the press and media that manipulate public opinion on beauty, and through the striking red band I expressed the parallel consciousness of beauty without prejudice or preconceptions.
By choosing partial images of different women and then assembling them, I attempted to break the stereotypes or social standards about beauty. 
The half-face of the main female figure demonstrates the public persona that people often show to others.
The contrast between black/white, and colour, and between big and small represents harmony in disharmony.
---
About the writer
My name is Ella (Sunghyun) Kang and I'm 16 years old. I'm a teenager who loves art, reading, and Halifax.