Originally published in December 2021.
Sparkling lights, savoury scents, and music that gets stuck in your head for weeks on end... welcome in the holiday season!
Whether you celebrate Christmas, Hanukkah, Kwanzaa, Chinese New Year, Ōmisoka, Yule, the year-end and the fresh new beginning it brings, a mix of all of the above, or absolutely none of the above; there can be a certain something special about this time in our world.
But, with all the hustle, bustle, and merry well-wishes can come relentless commercialization, heavy expectations, tight schedules, and spending pressures. It's not all joy and jingle bells. With this in mind, we've wondered: How can we help make your season shine, with no strings attached? (...Well, there may be a metaphorical jaunty ribbon here and there!)
Free, no-fuss, and effortlessly creative
As your Library, we are so accustomed to offering year-round free access and experiences, we often forget the magic of these endless gifts, right beneath our bookish noses. You may not even know about all the unique experiences available with the tap of a button or quick visit to your local branch. We're excited to reframe some of our most special offerings here for you, as the gifts they truly are. 
So, here you go, wrapped up with a bloggy bow: 12 free Gifts From the Library you can give this holiday season—or any time of year—to bring great cheer, reduce waste, honour your budget, and cherish this time with loved ones. Gift one, gift all; or make the time to treat yourself. 
Happy Library Holidays. Enjoy it! And thank you for the gifts you bring to your Library community: talent, kindness, wonder, and much, much more.
Note: Some of these experiences require a free library card. Give yourself the gift of a card, and sign up here! Every library cardholder also gets $5.00 worth of printing every month, so you could use this for printing your accompanying gift tags, notes, or cards.
---
1. Streaming Movie Night
Snuggle in with a loved one and choose from one of the many movies, documentaries, and TV shows available on our free streaming services, Kanopy and hoopla. Using your library card, you can view up to five videos per month per service, and Kanopy's content for kids is always available.
You can view on your device of choice, and our thoughtful Tech Interns even created one of our most popular blogs (ever), on How To Stream Kanopy or hoopla to your Smart TV.
Need some ideas for what to watch? Here are a few viewing recommendations our staff and friends have shared:
Enjoy the show!
2. Blind Date with a Book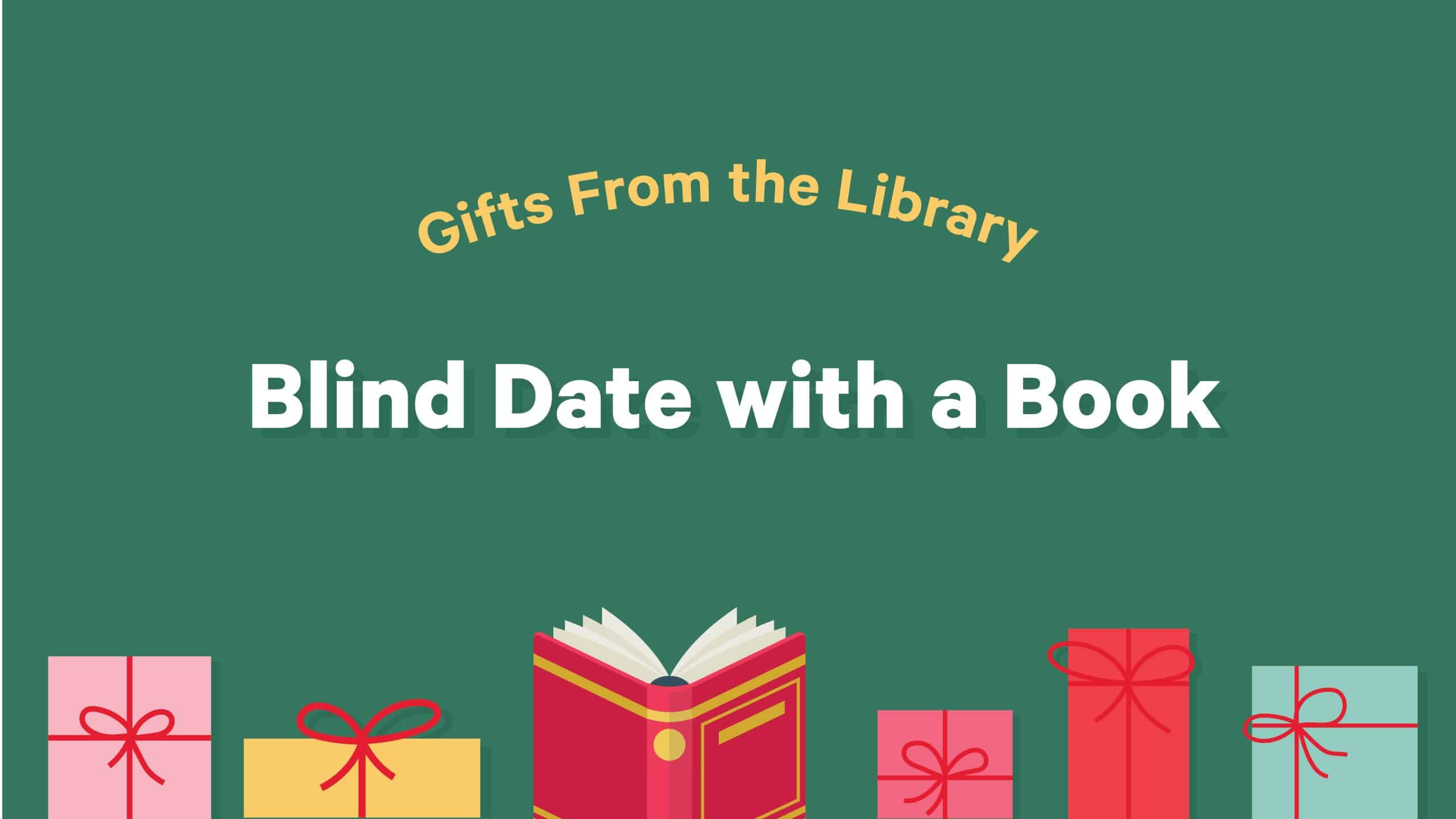 This is an adorable worldwide library trend you can bring into your holiday celebrations.
Partner up with a friend and pick out what you think will be one another's next favourite book! Check out the book (or graphic novel, DVD, CD, etc.) using your library card (this is a bit of a trust exercise, of course) and 'gift' it to your friend in simple wrapping paper or a gift bag. (Of course, taking the utmost care to keep the book in tip-top condition like you always do!)
Don't feel like wrapping? Browse the shelves or visit Curbside Pick-up together and trade picks at the end of your visit!
Once you've exchanged 'blind date' books, make a plan to chat when they're due back, to share your thoughts and reactions on each title. Pro tip: Gift your friend a book you've already read and loved, or one recommended by our Library staff.
Hoping to share this experience from afar? Another cool way you could share book recommendations is by creating a custom list for a friend or family member using the Make a List feature on your online account. Simply sign in, curate your list, add some thoughtful notes (annotations) for each item explaining why you chose it, and then save the list with viewing permissions of your choice. Once it's published, you can share the list link as you please!
Get inspired:
3. Map Out Your Family Tree
Ancestry is a gem of the genealogy world, and we're pleased to offer you free access to Ancestry Library Edition! Maybe you have a yet-to-be discovered famous ancestor, or a neat connection to local history. How cool would it be to share your discovery with your kin? Find out at the Library.
You can access Ancestry Library Edition from any branch of Halifax Public Libraries, using our WiFi connection. 
Draw on the supports of our special Local & Family History page online, or friendly staff in our branches or via our Ask the Library service to elevate your research.
Related Story: Our Library: Finding Answers
4. Craft Your Heart Out
You're creative—we know it! So why not show it?
A handmade gift is so special, and always one-of-a-kind.
Your Library offers a wide range of free Art & Craft workshops and events (with free supplies and tools), and we also have a great collection of step-by-step simple craft blogs (felt Baby Yoda, anyone?) and video guides; not to mention, many, many crafting books you can borrow.
Here's a quick guide to some of our many crafty creative outlets:
5. Lifelong Learning
Libraries are perfect places for embracing lifelong learning. Keen and clever brains will delight in the wide variety of learning opportunities we offer—and the best part is that you can pick and choose, to create your own master-class experience to share with a friend, loved one, or social group!
Here are a few favourite learning opportunities we think would make fantastic gifts:
Head Back to School with University Classes for Everyone
Buddy up and take part in an upcoming University Classes for Everyone together. During Winter and Fall semesters, the Library serves as a satellite campus for Saint Mary's University. For over forty years, the Library has partnered with Saint Mary's University to make these special courses free and open to everyone. It's a unique and enriching environment with a mixed audience of students and community members, conversing and learning together. Attend them all and level-up your learning, or pop by for a class here or there.
Skill Build with LinkedIn Learning
Even from a distance, you can learn together! Our free LinkedIn Learning tool (formerly Lynda.com) offers access to thousands of professionally-led video courses on everything from Graphic Design to Leadership. Plan to learn on the same path as your gift recipient, or divide and conquer to share your best tips with each other. You can track your progress and even share accomplishments to your LinkedIn profiles.
Learn a New Language Together
Our free tool, Rocket Languages, makes learning fun with interactive audio lessons that can be completed at your own pace.
You can learn 15 different languages including: Arabic, French, German, Mandarin, Hindi, Italian, Japanese, Korean, American Sign Language, Spanish, Brazilian Portuguese, English for Spanish Speakers, English for Japanese Speakers, or Russian. 
Find a whole new way to share l'amour, die Liebe, or الحب with one another!
6. Book Club Love
Have you ever wanted to join a book club, or start one of your own? Both are possible with the help of the Library! We would 100% cherish an invite to a book club as a gift from a friend. We bet your friends will, too.
Some of our branches host in-person book clubs, and we also have a virtual one that meets monthly on Zoom. Grab your best bookworm pal and sign up!
Or, invite your friends to a club of your own, and make use of our handy Book Club Kits! We currently have over 140 different, free Book Club Kits featuring new and popular adult titles. Check out our full list here.
7. Cook Up Something Special
Trying a new recipe—whether you do so as a pair or family, or all on your own as a surprise feast for your loved one—is simple with access to our cookbook collection, which features every imaginable cuisine. You can borrow a book from us, or even access local, cloud-based recipes via our free online resource, East Coast Recipes!
Your recipe for success? Visit our Food and Cooking portal: It has all our latest cookbooks, workshops, and even video tutorials from local chefs, gathered in one delicious place.
Our compliments to the chef (AKA you, the best gift-giver out there!).
8. A Winter Date Night
Who doesn't love a little date night coupon? Design a fun coupon to treat yourself and a partner or friend to a special outing to the Library or a virtual program.
Our evening events for adults often include author readings, movie screenings, and coming up in February - many amazing African Heritage Month festivities will be on the calendar. Everything is free and welcoming to all. Take your pick from our What's On Calendar, and make a date of it! And, if you prefer staying home in your PJs, we also offer virtual programs.
Looking for moments to enjoy with little ones? Here are our upcoming kids' events!
Tip: We're always adding to our calendar, so check back often for inspiration!
9. Library Crawl and Photo Shoot
Here's one for the biggest library lovers of all. It takes commitment, but we know it can be done!
Halifax Public Libraries has 14 branches and two Library Offices across Halifax Regional Municipality—from Hubbards, to Preston Township, to Sheet Harbour. You may have visited every single location (if so, we think you're a superstar!), but have you ever tried to make a weekend (or several-day excursion) of it?
This challenge could be an exciting one to tackle with your family or favourite road trip crew. You'll most definitely want to document the trip(s) with photo evidence, featuring your most creative poses outside each branch.
To make it extra special, you could plan to bring a wintery picnic to enjoy (bundled up, of course) at one of our Outdoor Libraries.
If you're taking on the challenge, be sure to check our Locations page for all hours of operation and any unexpected closures.
We'd love to see someone take this on. Please, please tag us @hfxpublib, #MyLibrary on social media if you make it happen so we can cheer for you every step of the way. There may even be a little prize for the first to do it!
Bonus: Visit and pose with our Library Kiosks, too!
10. Mastering Tech
Perhaps a relative has a new e-reader or tablet they haven't quite mastered yet, or maybe you'd like to improve your email or social media skills so you can stay in better touch with loved ones. We have experts, and we're here to help!
Although some one-on-one technology learning opportunities are subject to change due to health and safety guidelines, you can look ahead and plan to book a one-on-one Technology Help session once we fully resume these classes, or make use of our brilliant free tool, Niche Academy, to watch tech tutorials of all kinds (including how-to guides for free Library online resources!).
We recommend visiting our Technology Help page to discover what approach to tech mastery works best for you and yours.
11. Friendly Competition
Set a reading goal and stick to it! Using our many Staff List book recommendations or the guidance of our eye-catching recommendation Reels on Instagram, set an annual reading challenge for yourself. 
If you're so inclined, you can invite a friend to do the same, and agree on a prize or claim-to-fame title for the top reader or the person who hits their goal first. TD Summer Reading Club parents and guardians... does this sound familiar?
Using your online library account's 'Shelves' or another fun tool like GoodReads.com, create a list of all the books, e-books, audiobooks, and/or e-magazines you plan to read in 2022, and start borrowing! Feel free to track your progress on Instagram and tag us each time you tick a book off your list and review it. We'll be very impressed.
12. Capturing memories
Marking a moment in time can be the most touching gift of all. We can help you gift these memories to loved ones in heartfelt ways. Here are just a few ideas.
13. The Gift of Giving Back (Bonus Idea!)
If this little gift guide has you feeling all warm and fuzzy (trust us—we feel the exact same) and you're keen to pay it forward, we have one more idea for you to consider.
Volunteer with us! On your own or with another kindhearted kindred spirit, you can give your time and talents to make our community a better place.
Check out our current volunteer opportunities here. Thanks in advance for your consideration.
---
Have you decided to gift a Library experience this season?! Let us know in the comments, or by tagging us on social media @hfxpublib, #MyLibrary. We can't wait to see those smiles and celebrations.